NFFF takes the initiative in promoting life safety
---
Editor's note: What does your department do to promote the Life Safety Initiatives? Can the initiatives really help to reduce firefighter fatalities? Have your say at the FireRescue1 Forums or the Member Comments section at the end of this article.   
By Jamie Thompson
FireRescue1 News Editor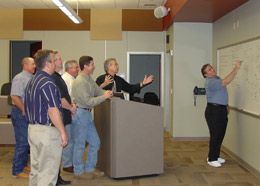 Photo Daniel Kistner
Discussions take place at the first workshops in Texas.
Chances are you've heard of the 16 Firefighter Life Safety Initiatives by now. But how well do you know them? More importantly, how do you use them?
More than three years after they were first drafted, the NFFF has launched a fresh campaign to drive home the message and try to deliver its aim of reducing firefighter fatalities.
Over the coming months, the program's regional advocates and senior officers at departments nationwide will be given refreshers on what the initiatives mean and how best to deliver the message to members.
These workshops began in Texas last weekend and will reach the other nine FEMA regions in the coming months.
Richard Anderson, program director of the Firefighter Life Safety Initiatives, said the initiatives have been received positively by the fire service from day one.
They were drawn up at the inaugural National Line-of-Duty Death Prevention Summit in Tampa, Fla., in 2004. Then in March this year, more than 200 chiefs, senior officers and experts from related fields gathered in Novato, Calif., for the second summit to refine the blueprint.   
The current round of workshops, said Anderson, is the natural next progression that will help keep the momentum going.
"There's not many departments now that don't know what the initiatives are," he said. "But it's not just about saying, 'I endorse it,' as that will not make a difference. We need to help them actually use them and show them how to do it." 
The 16 Life Safety Initiatives are part of efforts to reduce line-of-duty deaths by 25 percent by 2009 and 50 percent by 2014.
With 2007 shaping up to be one the deadliest in recent years for firefighters, it seems any effect the workshops may have cannot come soon enough.
"Part of our thinking is that maybe we've only been looking enough at the line-of-duty deaths, and not the injuries," Anderson said. "There are 80,000 injuries occurring every year. That's 80,000 injuries that could have resulted in deaths."
And 2007, according to Anderson, is a year when the luck has run out; the incidents that are often only near misses have — through a combination of factors — resulted in deaths more frequently than usual.
"If we don't change those unsafe behaviors and those injuries, and don't take them as a wake-up call, then the numbers of line-of-duty deaths will simply just fluctuate based on circumstances and luck," he said.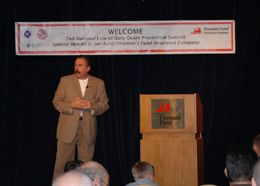 Photo Fireman's Fund Insurance Company
Ron Siarnicki, executive director of the National Fallen Firefighters Foundation, opens the summit in Novato in March.
"We can't depend on that — we have to find ways to reduce and manage risks and understand that there are an awful lot of preventable injuries and deaths."
The safety culture in the fire service is the dominant factor that must be addressed to reduce firefighter fatalities, according to a report released last month by the NFFF following the Novato summit in March.
It's a recurring theme within the initiatives. Several of the initiatives are self-explanatory and easy to grasp, according to Anderson. "Empowering firefighters to stop unsafe practices: that one seems pretty direct," he said.
 
But as for advocating a change in the culture? "That's much more abstract," Anderson said. "This is where we hope the workshops will eventually help people understand what exactly is the current culture."
In the regional workshops, regional NFFF advocates and senior department members will be taught that the company officer has an opportunity on their particular shift to influence the culture every day, from encouraging seat belt use to promoting exercise.
"Many consultants will tell you that it takes 10 years to change your culture," Anderson said. "But we believe that by doing it on a step-by-step basis, with company officers being led by a chief who is saying what they want to happen … that change can happen in less than 10 years."
Daniel Kistner, assistant chief of Garland, Texas Fire Department, was among those who attended the opening leg of the facilitation skills and the initiatives implementation workshops in his role as the NFFF's regional advocate.
Participants had the opportunity to develop "implementation action plans" that can be used as guides for their fire departments. The material for this course was developed by a team of renowned subject matter experts several of whom served on the Charleston Super Sofa Fire Review Team.
"We came away with a better working understanding of the initiatives," Kistner said.
"I think one of the things we identified is the fact many of them are not written for the rank-and-file, for the individual firefighter."
Kistner said he now hoped to be able to go to teach other senior officers what the initiatives can mean on a personal level and how firefighters can follow them.
In essence, Kistner added, it's about breaking things down from the national level to the most local level of all — the individual firefighter.