NIOSH: Lack of hazard markers, radios factored in Chicago LODDs
Two firefighters were killed and 19 others injured when a bowstring truss roof collapsed at an abandoned structure
---
CHICAGO — A lack of hazardous building information at an abandoned structure and an absence of radios on some firefighters contributed to the deaths of two Chicago firefighters last year, according to an investigation.
Firefighters Edward Stringer and Cory Ankum were killed and 19 other firefighters were injured when the bowstring truss roof of the 84-year-old building collapsed during suppression operations, according to a NIOSH report released Thursday.
The former commercial laundry structure had been abandoned for more than five years and had previously garnered citations from the city, which ordered the owner to either repair or demolish it.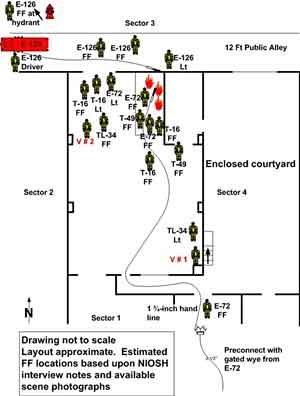 Since the building was not marked with any type of sign or warning information about the condition of the structure, the building appeared to be "in good repair, awaiting a new tenant" when viewed from the front, according to investigators.
Despite the Department of Buildings previously citing the building owners for dilapidated conditions, there was never a formal process for notifying the fire department.
As a result of the collapse, NIOSH says fire departments and city building departments should work together to identify and mark buildings that may be unsafe for firefighters and the public.
"Hazards should be identified and warning placards affixed to entrance doorways or other openings to warn firefighters of the potential dangers," the report said.
Investigators also said that while it was understandable to conduct an interior search for civilians due to frequenting of vagrants to the structure, the number of firefighters inside the structure "clearly exceeded the number needed to suppress the amount of fire present and to search the vacant structure while being exposed to the risk of structural collapse."
A lack of radios also factored into the incident, as only five of the 13 firefighters inside the structure at the time of the collapse had radios, and only one reported radioing a Mayday, the report said.
The report also called for fire departments to develop and use a detailed Mayday doctrine to ensure firefighters can effectively call a Mayday, citing the lack of a national standard for firefighters.
Firefighters can get free Mayday training CDs from the US Fire Administration Publications office and should consider the IAFF Fireground Survival Program, the report recommended.
In addition, NIOSH made the following recommendations for fire departments to avoid similar incidents:
Use risk management principles at all structure fires and especially abandoned or vacant unsecured structures
Train firefighters to communicate interior conditions to the Incident Commander as soon as possible and to provide regular updates
Provide battalion chiefs with a staff assistant or chief's aide to help manage information and communication
Develop, train on, and enforce the use of standard operating procedures that specifically address operations in abandoned and vacant structures