Iowa city considering alternatives for FFs after PSO model eliminates their positions
A task force is drafting alternative qualifications for those who don't meet the education requirements to become public safety officers
---
Andrew Wind
Waterloo-Cedar Falls Courier, Iowa
CEDAR FALLS, Iowa — A task force is developing alternate qualifications for firefighters who may not meet the education requirements to become public safety officers.
The eight Cedar Falls firefighters' jobs are being eliminated in a reorganization of the public safety department. But on Tuesday the group overseeing transitional plans for the employees discussed how to ensure that they could apply to be PSOs, cross-trained to provide both police and fire division duties, even if they don't have the required 60 college credits. That is a potential sticking point in enabling some of the firefighters to qualify for the job, which is one option if they want to remain employed with the city.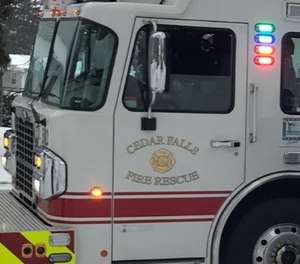 City Council member Simon Harding, one of six Cedar Falls officials on the task force, suggested potential applicants for the position should be required to have "60 college credits or 'X' number of (years of) police or firefighter experience." Members of the group also talked about other qualifications, such as certifications earned through training.
City attorney Kevin Rogers will draft a proposed alternative for the firefighters to meet the requirement that accounts for their backgrounds. The task force will consider the proposal when it meets Thursday. If agreement is reached by the members, the proposal could go before the council on Monday.
The group is looking at other city positions the firefighters could apply for, as well. Brian Heath, operations and maintenance division manager, said the city keeps a list of potential hires who are civil service-tested that is certified annually. It also has a list of current employees who qualify for promotions within their department that is updated every two years.
"Right now, we have no full-time positions available," he noted. "We keep a list current in case something comes open."
Task force members also discussed the possibility that some firefighters may qualify to apply for fire division supervisory positions or be on the verge of qualifying for retirement. They identified one firefighter in each situation. Craig Berte, acting police chief, said there may be an open supervisor position later this year due to a pending retirement.
Layoff notices for the firefighters, who are currently on paid administrative leave, will be sent out March 23, the same day they need to apply for another city position. The layoffs would take effect April 14. Those who don't make an initial decision to seek another city job would have to choose a severance payment by April 13 to receive the benefit.
Firefighters choosing severance would receive a lump sum equal to six months of base wages plus the health plan employer contribution during the period for them and their families. The average per employee would be approximately $38,300 plus already accrued benefits owed anytime someone leaves the job. The total outlay for all eight employees would be just under $400,000.
Council member Frank Darrah, who is presiding over the meetings, said the immediacy with which the changes are taking place is "I think my biggest issue with this thing.
"Does it have to happen by April 14 or is there a way we can take advantage of their years of experience?" he asked. "I don't want to imply that I'm still not 100% committed to the PSO model."
Harding also expressed a preference for making the deadline later, but a majority of the task force supported the April dates in a vote.
In a related matter, the city turned down a request that it negotiate the proposed changes with the union representing the employees, Cedar Falls Firefighters Local 1366. Scott Dix, the union's president, shared the March 6 letter from city representative Michael Galloway with Ahlers & Cooney Attorneys of Des Moines.
In making the request, Dix said the city was required to negotiate on the matters under state law. Galloway disagreed in his letter. He wrote that paid administrative leave and layoffs are included in the current collective bargaining agreement so "there is no reason to open the contract and negotiate over this."
Dix acknowledged that "we are looking at legal action" in light of the response and suggested it's "a continuation of retaliation" against firefighters.
———
©2020 Waterloo-Cedar Falls Courier (Waterloo, Iowa)
McClatchy-Tribune News Service