Staying on track: How technology helps preserve firefighter training
How to leverage online learning technology to manage fire department policy and standards compliance
---
As we look back now at the challenges of 2020, one area that was significantly impacted was public safety training. This included limited face-to-face training, reduced delivery of both initial and ongoing training, and increased work to keep up with the onslaught of policy and procedure changes driven by the pandemic.
So, when most of what we used to do is not an option, we innovate and figure out a new way. But what are the new tools available to fire service personnel?
Technology is improving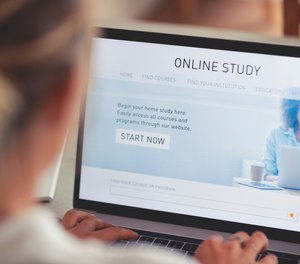 The very use of the words "technology" and "training" in the same sentence will cause some to immediately go on the defensive. Some will argue, "we can never replace actual live-fire training with a simulation" or "a computer will never replace the real thing." I don't disagree at least in part.
But as the business of fighting fires and responding to EMS calls and other emergencies continue to evolve, public safety agencies must evolve, too. The good news is that as your business of serving the community continues to evolve, the technology that can be leveraged to help provide new tools for our ever-growing toolbox grows along with it.
A brief word about change that I would like you to pause and consider: As with any new tool or idea, several key questions need to be asked before you can begin implementation:
Are others currently using it? If so, what do they think about it?
How many companies provide this service?
Is this a good fit for our organization?
How long does it take from the day you say "go" before it is fully implemented and running?
Does this solution leverage state-of-the-art technology or use existing technology in a new way?
When you start asking these and other important questions, you begin to see a clearer picture of what you are considering and the benefits of something new.
Tech flex
One of the most important challenges that many public safety departments, but especially the fire service, faced in 2020 was how to adapt the delivery of training when we could no longer meet in groups and provide face-to-face training.
Many of you belong to a department that uses an online learning system to provide continuing education training for EMS, Company Officer, Hazardous Materials, Fire Service Instructor and other credentials that require continuing education units (CEUs). Unfortunately, not all departments have the luxury of online training and remote access to policy, standard operating guidelines (SOGs), EMS protocols, and forms.
For those departments fortunate to have such systems, there is a key question to ask: Do they leverage all of the features and capabilities to their full potential? Because of task saturation, many will begin to implement a program or system but not go beyond the most basic capabilities.
Further, many of these programs and platforms are scalable, meaning they can be adapted to different organization sizes and needs. While such flexibility is a benefit, it too can cause a department to underutilize the system's capabilities. Leaders need to recognize the benefits of scalability, as the program can adapt to organizational changes, from times of tight budgets and staffing reductions to times of organizational growth.
Benefits of tech-based programs
Organizations that embrace technology-based programs can realize several benefits:
Increased efficiency – Training managers can assign training, track progress, send reminders, and track completion through automated functionality to reduce workload and increase training accuracy. Also, opportunities for "flipped classrooms" and other training methods can reduce the number of hours spent in the classroom, as learning can be done online, and students can then move right to the training ground where firefighters are happier and many believe the real education and learning takes place. Why not get there sooner!
Leverage industry expertise – A great impact is finding an industry partner to improve compliance with federal and state law, case law and industry standards that direct the way public safety departments operate; update these policies as the industry changes; and ensure that all members are aware and acknowledge these changes in their organization.
Provide better access – Online learning and policy platforms provide access to information that firefighters need from virtually any computer or device with internet access. Additionally, many of these platforms have mobile applications that provide access via tablets and smartphones. This access encourages members to access this information and be better informed when questions arise or if specific instructions are needed for an issue or task during an emergency response.
Training flexibility – Leveraging online learning platforms and similar technology will also provide greater flexibility to continue training delivery during challenging times, like the pandemic. Personnel can continue to receive vital training for continuing education or to provide initial training on new initiatives or updates to current practices.
Technology keeps us on track
Many departments and their training officers struggle at times to develop and maintain a training plan. This is often attributed to the dynamic nature of public safety, specifically the ever-changing priorities and conflicts that can cancel, postpone or somehow change our previously established short- and long-term training plans. In other words, even the best-laid plans can be derailed.
It can be difficult to try to refocus on training priorities and ensure that training is relevant and meeting the needs of the organization and its members. Online learning programs can help develop or refocus a training plan by providing clarity to the plan itself, showing officers how to measure members' successes, and serving to identify failure points that can then be evaluated so adjustments can be made as needed.
As mentioned, much of what drives a training program is a mixture of federal and state laws, industry standards, and organizational policy and operating guidelines. Much of the training divisions focus is how often certain topics need to be covered and for how long to meet these laws and standards. An organizational training plan will identify such priorities and outline how to meet or exceed these priorities. Additionally, there is greater visibility for progress and compliance for these priorities as an organization, as a company or crew, and as an individual within the organization. This visibility allows adjustments to be made at the organizational level where it is appropriate to improve performance to enhance safety and knowledge for everyone in the organization.
The cost factor
One primary reason why a department may choose to not implement online training programs is cost. And yes, it seems like a lot to spend.
But a key point to realize is that the organization is likely already investing a significant amount of time and resources to provide training – but less efficiently. What are your current training costs? If you have people assigned to the training division, there is a cost associated with it. When you leverage technology to provide significant enhancements without adding additional workload to the current staff, it creates an efficiency that benefits the organization and the budget.
As these systems provide enhancements to productivity and efficiency, there is a real possibility that some of the human resources that are currently dedicated solely to training activities can have some of that time reallocated to other critical tasks, such as safety, recruitment or other tasks that otherwise would not be possible with the current program.
Solutions for now and the future
The pandemic has significantly impacted many aspects of daily public safety operations, forcing fire service leaders to devise innovative ways to deliver training that is relevant, safe and effective for our members. If you have not looked at this kind of opportunity before, maybe now is the right time to evaluate your options. If you have looked at this opportunity before and passed, maybe it's time to take a look again and reevaluate how this kind of solution can enhance your department now and in the future. Either way, as these programs continue to rapidly evolve, and as your department's needs for training continue to change, I hope you can find a solution that will fit your needs and your budget to make a positive impact on your organization, now and in the future, too.
Editor's note: How does your department integrate high-tech tools in training? Share in the comments below.