'Forever chemicals' crackdown hits N.J.
Firefighting foam is blamed for PFAS pollution in one airport-adjacent area that has registered two violations this year
---
Michael Sol Warren
nj.com
TRENTON, N.J. — A year after New Jersey took some of the nation's most aggressive steps to keep toxic "forever chemicals" out of drinking water, the crackdown has begun.
The New Jersey Department of Environmental Protection issued violations to 22 water systems, including eight community systems, in the Garden State in the first half of this year for high levels of a trio of polyfluoroalkyl and perfluoroalkyl substances (PFAS) — the toxic chemicals at the heart of the 2019 Mark Ruffalo movie "Dark Waters."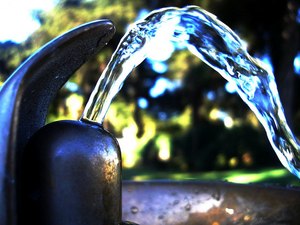 PFAS are a family of thousands of chemicals found in a range of products from nonstick cookware to firefighting foam. PFAS have been linked to cancer, immune system issues and other health effects, according to the Centers for Disease Control and Prevention.
New Jersey regulates three of the most common PFAS: Perfluorooctanoic acid (PFOA), perfluorooctane sulfonic acid (PFOS) and perfluorononanoic acid (PFNA). The PFOA and PFOS rules were enacted last summer, while PFNA has been regulated since 2018.
The eight affected community water systems stretch across the state, from Bergen County to Gloucester County, serving more than 55,000 New Jerseyans. Some are near sites known to be sources of PFAS pollution.
Delilah Terrace, a mobile home park in Egg Harbor Township, is the only water system that has registered two violations this year. The community is just south of the Atlantic City airport, where extensive use of aqueous film-forming foam (AFFF) is blamed for PFAS pollution. The airport is at the center of a lawsuit the state filed against foam manufacturers and users in 2019.
In Gloucester County, the borough of National Park's water department was issued a violation for PFNA in February. The town is near the Solvay chemical plant in West Deptford, which has long been blamed for extensive contamination in the area. Solvay has not taken responsibility for the pollution.
Jim Stewart, who has lived in National Park for three decades, volunteers with the Delaware Riverkeeper Network to bring attention to the issue. He's concerned about what the chemicals may be doing to his health, but said installing a full filter system into his home is too expensive.
Stewart added that he's never considered leaving National Park, because he knows how PFAS contamination is a statewide problem and he feels tied to his home.
"I've raised five kids and six grandchildren in that house," Stewart said.
The sources of the problems in other water systems are often unclear.
The Post Brook Public Water System, which is owned by the Passaic Valley Water Commission and serves about 500 people near Nosenzo Pond in West Milford, was issued a violation for PFOS in May. Suzanne DeLorenzo, PVWC's laboratory and water quality supervisor, said the utility is still working to figure out where the problem is coming from.
"We do know that PFOS contamination is not uncommon in the area," DeLorenzo said. "The complex network of wells and aquifers in the Highlands region makes tracking down a source difficult, as there may be just one or multiple sources contributing to the issue."
The DEP has also issued PFAS violations to 14 non-community water systems, which serve individual facilities from schools to manufacturing plants, so far this year.
Water systems that have PFAS violations may take a variety of actions to come back into compliance with state rules, according to Caryn Shinske, a DEP spokeswoman. That includes taking a tainted well out of service, drilling new wells to access clean water, and adjusting the water treatment process to remove the chemicals.
But doing that work can be expensive. Garfield city officials warned last month they may need to spend $2 million to address their system's violations, according to NorthJersey.com. Finding a way to pay for the work often means a water system either raising rates, or trying to cobble together grants, bonds and loans.
In some cases, the utilities have gone to court to try and force chemical companies to pay for the fix. Hopatcong, a borough in Sussex County that was issued a violation for high PFOS levels in July, is one of multiple Garden State municipalities that have filed such lawsuits.
State authorities are also relying on litigation. In January, New Jersey sued the Department of Defense, alleging the military has failed to clean up PFAS pollution at Joint Base McGuire-Dix-Lakehurst in Ocean and Burlington counties.
In 2019, New Jersey sued DuPont, Chemours and 3M for historic pollution at four sites, and the state filed its AFFF lawsuit that same year.
Shinske said the DEP does not comment on ongoing litigation.
A settlement announced last month between a trio of chemical companies and the state of Delaware could be a sign of things to come in New Jersey. In that case, the companies agreed to pay $50 million for damages caused by PFAS pollution, according to Delaware Public Media. That money will be spent by Delaware authorities to help clean the mess in that state, while also funding health clinics and installing filtration systems.
©2021 Advance Local Media LLC. Visit nj.com. Distributed by Tribune Content Agency, LLC.
McClatchy-Tribune News Service