Miss. firefighters respond to water emergencies amid severe flooding
Jackson firefighters and recruits have been filling sandbags, distributing water and performing rescues
---
By Leila Merrill
JACKSON, Miss. — After heavy rainfall and flooding caused damage at Jackson's main water treatment facility, Mississippi, Gov. Tate Reeves declared a state of emergency for the city, with firefighters and emergency management workers stepping in to offer help.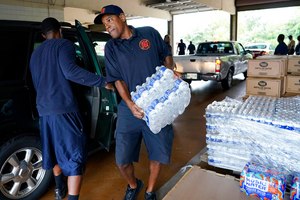 With Jackson's water system failing, residents have little or no water pressure, leading to a dearth of clean drinking water and water to flush toilets or take showers.
There were also concerns about firefighters' ability to fight fires. Mississippi Emergency Management Agency Executive Director Stephen McCraney said Hinds County Emergency Management Agency had secured water for potential firefighting needs, Mississippi Today reported.
Firefighters have been distributing water in recent weeks, the Associated Press reported. And Jackson Fire Department recruits helped residents prepare for flooding last week. A photo shared by the department showed the recruits filling sandbags.
As crews work to resolve the issue at the water treatment facility the Mississippi Emergency Management Agency and National Guard are set to distribute both drinking water and non-potable water, CNN reported.
On Sunday, firefighters helped community members by boat.