Mass. gas company to pay for extra firefighters after explosion
Columbia Gas agreed to pay for an extra engine company due to increased calls the fire department was receiving about gas leaks and carbon monoxide issues
---
By Jill Harmacinski
The Eagle-Tribune
LAWRENCE — Courtesy of Columbia Gas, the city will have an extra crew of firefighters on duty for at least the first two months of this year.
The natural gas provider has agreed to pay for an extra, three-person engine company of firefighters for January and February 2019, Fire Chief Brian Moriarty announced Wednesday.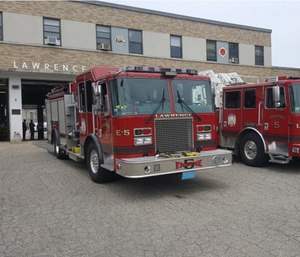 At the close of 2018, Moriarty asked Columbia Gas to pay for extra firefighters due to increased calls the department was receiving about gas odors, gas leaks and carbon monoxide issues since the Merrimack Valley gas disaster on Sept. 13, 2018.
The extra engine company will comprise a fire department officer and two firefighters. The shifts will be filled through overtime and no new firefighters will be hired at this time, Moriarty said.
"It's a win for public safety and a win for the city," Moriarty said.
The extra engine company will be stationed at the South Broadway fire house and will be available to respond to all emergency calls in the city.
The additional firefighters started working at 6 p.m. Tuesday, he said.
It's unclear how much the extra staffing will cost the gas company during the two-month period.
Staffing the extra engine company for a full year was expected to cost $1.1 million, Moriarty previously calculated.
Mayor Daniel Rivera praised the gas company for "seeing the need and doing the right thing."
"I thank them," he said, adding "Chief Moriarty's leadership has made a huge impact."
An over-pressurized gas line on Sept. 13 caused dozens of fires and explosions in Lawrence, Andover and North Andover. One person was killed and others were injured in the disaster, which cut off gas service to 8,600 customers, some into mid-December.
While service has been restored to most of those customers, recovery efforts are expected to continue into 2019 and beyond — including repairing more than 70 miles of roads Columbia Gas had to dig up to replace its gas lines.
After the gas disaster, which initially forced temporary evacuations, additional firefighters worked on the south side of the city, including a deputy fire chief who was assigned to just that area daily. Those extra costs, to be borne by Columbia Gas, have yet to be determined, officials have said.
"Staffing makes a difference and staffing is expensive," Moriarty said previously.
In South Lawrence, millions of dollars in repair work is now needed due to gas line replacement.
In mid-December, officials said more than 7,500 residential and business meters had gas service restored; more than 18,000 pieces of gas equipment and appliances have been replaced; 20,000 damaged pieces of gas equipment and appliances have been removed and disposed of; 44 miles of pipeline have been replaced; and $78 million have been paid out in claims.
Copyright 2019 The Eagle-Tribune
McClatchy-Tribune News Service