Ariz. to build Granite Mountain Hotshots memorial park
The Yarnell Hill Fire Memorial Park will feature a "story wall," an amphitheater and a centerpiece featuring the iconic photo of the Granite Mountain Hotshots
---
By FireRescue1 Staff
YARNELL, Ariz. — The community of Yarnell is planning to build a memorial park in honor of the Granite Mountain Hotshots who passed away six years ago while fighting the Yarnell Hill Fire.
According to AZ Family, the Yarnell Hill Fire Memorial Park will feature a "story wall" that tells the describes the timeline of the fire and an amphitheater. The center of the memorial include a pile of boulders with the Granite Mountain Hotshots forming a human pyramid etched in metal.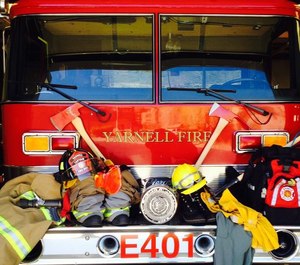 The memorial will give residents and those affected by the loss a way to move on.
"It changed the way we look at ourselves, the way we interact with our neighbors. It's a tighter community," Frances Lechner said. "We're clearer about what's possible for us. Let's do some really cool stuff so their sacrifice was worthwhile."
The Yarnell Hill Fire started on June 28, 2013, near Yarnell, Arizona. Two days later, the fire overran and killed 19 Prescott Fire Department firefighters – members of the Granite Mountain Hotshots. The fire is the most fatal incident of any kind involving U.S. firefighters since the September 11 attacks in which 343 firefighters were killed.