Man accused of harassing firefighters at crash scene
A passenger involved in a car crash was arrested and charged with obstructing emergency services after he began yelling and approaching firefighters on scene
---
Randy Griffith
The Tribune-Democrat, Johnstown, Pa.
NANTY GLO, Pa. — Riley M. Ulrich, 18, was jailed Friday, accused of harassing firefighters at the scene of a traffic crash.
Ulrich, who told police he has no permanent address, was a passenger in a vehicle driven by Samuel Waltemire.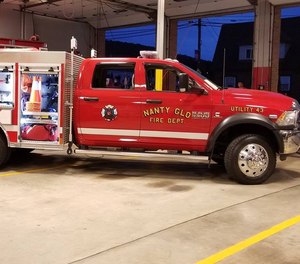 Waltemire's vehicle was involved in a two-vehicle crash at the intersection of School and Maple streets in Nanty Glo Borough. One of the vehicles ended up striking a structure, the criminal complaint says.
Emergency crews responding to the scene told Nanty Glo police that Ulrich was yelling at them and interfering with their work.
Police told him to leave the immediate area, but he returned to the scene and began arguing again with the officer. He then yelled something at a firefighter and started moving toward the individual, the criminal complaint says.
That's when police detained Ulrich and later filed charges of obstructing emergency services and disorderly conduct.
He was arraigned Friday by on-call District Judge Michael Musulin, of Johnstown, and placed in Cambria County Prison after failing to post $15,000 bond.
Randy Griffith is a multimedia reporter for The Tribune-Democrat. He can be reached at 532-5057. Follow him on Twitter @PhotoGriffer57.
———
©2019 The Tribune-Democrat (Johnstown, Pa.)
McClatchy-Tribune News Service