IAFF, Metro Chiefs issue joint statement about turnout gear PFAS risks
The groups offer guidance for how firefighters can limit their exposures
---
By Leila Merrill
WASHINGTON, D.C. — The International Association of Fire Fighters (IAFF) and the Metropolitan Chiefs Association (Metro Chiefs) issued a joint statement this week advising their members of the health risks associated with firefighter turnout gear.
Recent studies have shown that all three layers of bunker gear contain per- and polyfluoroalkyl substances (PFAS) chemicals, and those chemicals have been linked to cancer – the leading cause of firefighter deaths.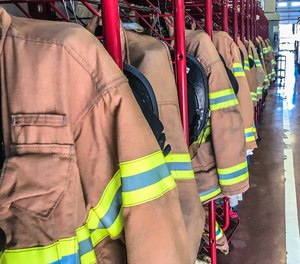 The two groups advise:
Limiting the use of turnout gear to emergency responses where its protection is a necessity;
Not bringing turnout gear into firehouse living areas;
Transporting gear in sealed containers or bags (and preferably not in a vehicle's passenger compartment);
Washing your hands after handling turnout gear; and
Cleaning apparatus cabs regularly and after every fire.
The organizations also said:
"Identifying safe and effective PFAS-free materials for turnout gear is a long and challenging process. Both the IAFF and Metro Chiefs are dedicated to removing PFAS chemicals from turnout gear. The joint efforts will take place before regulatory bodies and in continuing discussions with manufacturers in the critical initiative of eliminating PFAS "forever chemicals" from turnout gear."
ADDITIONAL NEWS AND RESOURCES