The probie path: Finding, then connecting new firefighters with the right team
Putting new members on a course that fits their skills and goals helps recruitment and retention efforts
---
As a 22-year veteran for the fire service, I have seen many approaches to finding the best candidates to join the ranks. Every department is jockeying for that individual who will do the fire service justice and serve as a great asset to the community.
Back in 1998, the newspaper was a primary medium to reach potential applicants. It was what first introduced me to the fire service. There were also fire service recruiters who put in long hours to help recruit prospective members from high schools and local colleges and through other community-based recruitment efforts.
Now in 2021, with retention issues growing, plus changing demographics in many communities, it's vital that fire departments employ new strategies to find – and keep – quality members who are ready to dedicate a lifetime of service.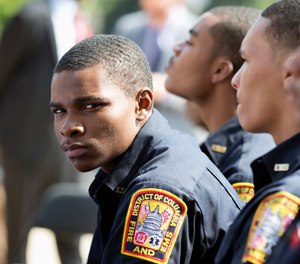 Finding and hiring the ideal firefighter
The fire service has always reached out to people who possess the desire to be public servants and pillars of their communities.
Fire service leaders typically know the characteristics they want their firefighters to possess. The ideal firefighter is a team player and a critical thinker – essential skills during a highly stressed environment. Being able to think on their feet could be critical for a patient, crew and the individual firefighter. At some fire departments, the applicant's characteristics are discussed by a panel of veteran firefighters to determine whether the applicant has what it takes to advance through the hiring process.
We want to emphasize pride in being a team member within our fire service. As such, it is important that we continue to screen all applicants so that we can select the very brightest candidate that fits our department and is a reflection of the demographics of the community it serves.
There are opportunities for applicants to attend study groups, practice agility sessions, and possibly fire station ride-outs. These steps are often generated through the applicants' peers, some of whom are already firefighters. This begs the question to fire service recruiters: Are you allowing the applicant into your world before they are hired?
During my tenure as a recruiting/hiring/training officer, we were able to establish a faster and more up-to-date hiring process that better fit the fire service applicant of today. With the improvements in technology, I was able to approach recruitment in new ways, capturing some demographics that mirrored the efforts of recruiting in two different time frames that I will label as Era 1 and Era 2.
These efforts are followed with an approach to firefighter retention called "probationary firefighter migration efficiency." This could be a pattern to help retain the members who have a desire to become pillars in their communities as fire and EMS personnel. Let's first examine the initial recruitment efforts across two eras, then detail how we focused on using this method to keep new members on the job.
Era 1: 2008-2013
During this span of years, my fire department used several mediums to reach applicants, including newspaper notifications, radio and TV bites. We were not yet using the internet as a primary recruiting tool.
By utilizing these mediums, the department was able to recruit, hire and retain 106 members. Despite the fire department's attempt to represent the demographics of the city, the ultimate recruitment results included the following breakdown of members: 64% Caucasian, 33% African American and 3% of other ethnicities, made up of 97% men and 3% women.
Era 2: 2014-2019
During this span of years, my fire department used the same mediums noted in the previous era, but now the internet, too. Adding social media gave us a direct approach to achieving a more representative demographic for our department. We also used several websites like Sign-up Genius and Poll Everywhere to connect applicants directly to the department's hiring process.
Through the expanded mediums, we hired 126 new firefighters with the following demographic breakdown of members: 53% Caucasian, 45% African American and 2% of other ethnicities, made up of 93% men and 7% women – a strong increase in the number of African Americans and women hired.
Retention of fire service recruits
Retention is a critical issue for the fire service, as leaders seek ways to retain good firefighters who may be considering moving on to other options. But is the grass really greener on the other side? There have been members leave for brighter paths, and some have returned. But the key question is still this: How do we keep them from leaving in the first place? What are the key elements to retaining firefighters?
Each applicant was driven to the fire service for a reason. Maybe it was a career move, the dynamics of the department or a financial improvement. As I think back to how I was introduced to my fire department, my first impression was the people I saw. This made it abundantly clear that I wanted to be a part of a career service that offered service to the community.
Unfortunately, as we've seen over and over, many firefighters state in exit interviews that they ultimately felt undervalued – an issue that could be addressed by pairing the firefighter with a crew that fits their skills sets and values.
Another issue affecting fire service retention is the divisions among generations. Many have argued that baby boomers and millennials are simply going to operate in different ways, and we should therefore adapt so they can thrive. One way to achieve this is to place probationary firefighters with a crew of similarly aged members to ease that initial exposure to the fire service.
Even if we try to match the probationary firefighter to the crew, it is the probationary firefighter's performance that dictates their destination. There should be a clear pathway from the training division, established by the academy training officers. After all, they have spent the most time with the recruit, so they likely have the best perspective on where the recruit needs to migrate.  
This concept of migration efficiency is one approach to helping a new recruit fit into the fire service and its culture.
Probationary firefighter migration efficiency
Joining the fire service can be a shocking initial experience. New members have shown their willingness to give it their best shot, but there will need to be guidance, leadership and mentorship to help the probationary firefighter make progress in their new environment. Now is time to remember the proverb, "It takes a village to raise a child."
The training division has a method of molding new recruits in the image of the fire service and its foundation. The training division's direction is to ensure that both parties, new recruit and established fire crews, can gel. This starts with putting firefighters on a path to success.
During the new firefighter's probationary period, they are rotated through several fire stations. This helps the new firefighter adjust to the job. The training division sets a direct path for these rotations before the recruit is released to the operations division. This is where pairing comes in. The new recruit should be paired with a crew that best fits the new member's skill sets.
It's important to map out a new recruit's pathway, not just for the initial exposure to the fire service and its operations, but also for the efficiency of the migration. The training division has the best view of the recruit's attributes to help them transition and remain with the department. Having the new recruit's rotations match their attributes allows for a positive exposure to the fire service.
Each fire basic teaches the foundations of fire, EMS and rescue. The recruit may excel highly in one of these areas, if not all three.
The fire service training division should map the recruit's entire probationary period with these attributes in mind. Aligning the recruit's pathway with established leaders who share similar attributes can help foster retention and create a long-term positive experience that they will use to serve the community with highest upmost care.
This transition is a leap of faith, just as it was when first reaching out to the applicant. Remember, it takes a village to raise a child.