Police union: Firefighters, cops helping save Harvey victims shot at by looters
A group of firefighters were shot at while conducting search and rescue operations
---
By FireRescue1 Staff
HOUSTON — Firefighters and police were targeted by looters while rescuing people from Hurricane Harvey floodwaters, according to police.
The Houston Chronicle reported that a group of firefighters and police officers were shot at while conducting search and rescue operations.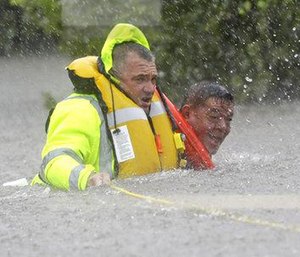 Police Union Vice President Joe Gamaldi said police diverted from making high-water rescues to respond.
He said in a tweet that the shooting was "#disgusting," and looters were "advertising the shooting while we are saving people."
Harris County DA Kim Ogg told Fox News that looters would be prosecuted to the fullest extent.
"Anyone who tries to take advantage of this storm to break into homes or businesses should know that they are going to feel the full weight of the law," Ogg said. "Offenders will be processed around the clock without delay."
Texas state law "allows for enhanced punishment ranges for certain offenses committed during a declared natural disaster event," Montgomery County officials said.