2 Ill. cities to pay $36K in fines over 'lapses' in firefighter's death
Investigators cited multiple errors made on the scene of the Dec. 4 fire that contributed to Sterling Lt. Garrett Ramos' death from asphyxiation
---
Kathleen A. Schultz
Daily Gazette, Sterling, Ill.
STERLING, Ill. — Sterling and Rock Falls will pay a combined $36,000 fines from the state over the death last year of Sterling firefighter Lt. Garrett Ramos, Sterling City Manager Scott Shumard confirmed.
According to a statement signed by Shumard and Rock Falls City Administrator Robbin Blackert, officials from both cities met individually with representatives from the Illinois Department of Labor to review the Occupational Safety and Health Administration's report and citations.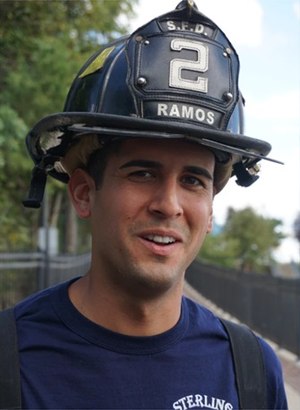 Investigators cited multiple errors made on the scene of the Dec. 4 fire that contributed to Ramos' death from asphyxiation. As a result, Sterling was fined $24,000 and Rock Falls $12,000.
"While IDOL agreed to review some inaccuracies contained in the documentation, the fire departments recognize the report identifies lapses in the execution of standard operating procedures and standard operating guidelines, that when combined, created a situation in which a line of duty death could, and ultimately did occur," the statement said.
Ramos, 38, died Dec. 4 after the floor collapsed and he fell into the basement of a home on Ridge Road in Rock Falls. According to the incident report, he was found unresponsive, with an empty air tank.
The cities have until May 25 to abate the violations, several of which were addressed before the documentation was released "through approved training programs." it said.
"The cities of Sterling and Rock Falls are committed to ensuring we continue providing the necessary training and support to best reduce the risk of this occurring again," according to the statement. "Personnel in the departments are expected to hold each other accountable for adherence to the established standard operating procedures and standard operating guidelines to make our fire departments safer for our employees and safer for the communities we serve."
According to the report from OSHA, which the IDOL oversees, among the factors contributing to Ramos' death were:
Fire command didn't realize the home had a basement.
The fire was assessed to be under control when it was not.
Ramos' call for help was not identified as coming from him and he was not immediately looked for or found.
Once found, Ramos wasn't given emergency air.
The first two attempts to remove him from the basement failed.
Several hours after the report was published on April 9, the cities of Sterling and Rock Falls released a joint statement in which they contested two findings that they said they would appeal: that the incident report, which did not identify firefighters by name, had misidentified the "accountability officer" at the scene, and that the report cited an email the city administrator sent to the Department of Labor that actually was part of an unrelated IDOL inspection that had taken place earlier in the year.
The conferences were held to address those issues.
No further details were included in the statement.
___
(c)2022 the Daily Gazette (Sterling, Ill.)
McClatchy-Tribune News Service