Arbitrator upholds dismissal of ex-Conn. fire lieutenant, concludes he lied about dealing drugs
Michael Yagmin was the only New Britain member to lose his job over the scandal that surfaced after Firefighter Matt Dizney was found dead
---
By Don Stacom
Hartford Courant
NEW BRITAIN, Conn. — In a sharply worded report, an arbitrator has ruled against the New Britain firefighter who claimed he was wrongly fired in connection with the secretive fire department drug ring that led to a major scandal last year.
Former Lt. Michael Yagmin lied to city leaders when he claimed he didn't sell drugs to Firefighter Matt Dizney, according to the report issued last week by Arbitrator Dennis Murphy.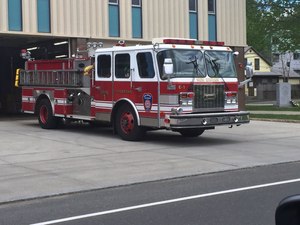 Dizney, 36, died suddenly at his home last January, and a medical examiner concluded part of the cause was "acute intoxication" from a mix of horse tranquilizers, fentanyl and other drugs.
Yagmin's "core behavior of drug use and his facilitation of such use with another firefighter, leading to his death, is obviously absolutely unacceptable in a public safety officer, especially one in a supervisory role," Murphy wrote.
Murphy's decision relied heavily on pages of text messages between Yagmin and Dizney that police recovered after Dizney's death.
Murphy described them as "the sad and repulsive details of desperately seeking drugs, using them, and discussing the severe results of such use," and rejected Yagmin's contention that they referred to marijuana, not stronger drugs.
Yagmin's "sworn testimony depicting all of that painfully sordid activity as simply describing marijuana use is so staggeringly false it is instantly dismissed as an insult to any rational, mature mind," Murphy wrote.
Yagmin could not be contacted Tuesday, and messages to union President Ken Keough were not returned.
Yagmin was the only firefighter to lose his job over the drug use scandal that surfaced after Dizney was found dead at his Southington home on Jan. 26, 2022.
Even though Dizney had been off duty that day, the city began an extensive investigation that ultimately reached into all of its firehouses.
The city invoked Garrity rules when it questioned firefighters; that protects public workers against having their answers used against them for criminal prosecution. But Garrity provisions also require employees to answer and to answer truthfully, all under penalty of dismissal.
The investigation determined that nine firefighters — mostly veterans — had used Adderall, cocaine, heroin or fentanyl, with at least three of those instances happening while they were on duty. Yagmin and Dizney were among the nine.
A medical examiner concluded that Dizney's death was accidental, attributing it to coronary artery thrombosis and atherosclerotic cardiovascular disease as well as the effects of "acute intoxication." Tests showed fentanyl, the veterinary tranquilizer Xylazine and the sedative Zolpidem were in his system at the time.
Southington police filed no criminal charges in his death, and New Britain police said they didn't have enough evidence to pursue charges for the drug transactions.
But fire commanders ordered a large-scale staff transfer between the city's eight firehouses to break up cliques of troubled employees.
The city suspended seven firefighters, each for 30 days. To keep their jobs, they acknowledged violating the city's code of conduct.
They were either drivers, an upper-seniority assignment, or supervisors, and were all demoted to private. They are serving three-year probation periods when they cannot seek promotion.
They agreed to drug counseling or rehabilitation, and signed agreements to accept random drug testing at any time during that probation.
---

Read more
After firefighter's drug-related death, Conn. FD, union agree to random testing
Recently completed toxicology tests showed that New Britain Firefighter Matthew Dizney had multiple drugs in his system when he died in January
---
Yagmin, however, consistently denied wrongdoing. Mayor Erin Stewart fired the 17-year veteran, saying he had violated the city's code of conduct by lying to investigators. Yagmin took his case to arbitration, saying he had been unfairly punished.
On Tuesday, Stewart called the arbitration award a win for the city.
"It made very clear the reason he was terminated wasn't for doing drugs on the job, it was because he lied to us about all of this," she said. "Hopefully now we can close this chapter and move on."
In his report, Murphy dismissed the New Britain Firefighters Local 992′s contention that the city never conclusively proved Yagmin used drugs at work. The union also argued that he was singled out for excessive termination.
"The union is correct in all of its observations that the grievant was never found under the influence of drugs on the job, that he never was asked to be tested due to a suspicion of being such, and he was never arrested or convicted of possessing unlawful drugs," Murphy wrote.
"However he was not terminated for any of those events. His untruthfulness and conduct unbecoming a city employee and firefighter caused the end to his career," Murphy wrote. "His untruthfulness in facing up to such behavior, the reason the city fired him, piled self-inflicted tragedy upon an already tragic situation."
©2023 Hartford Courant.
Visit courant.com.
Distributed by Tribune Content Agency, LLC.
McClatchy-Tribune News Service