NY investigators focus on sprinklers, cause of fire at facility where FF was killed
Officials said firefighters were hampered by low water pressure at the scene
---
By Laura French
SPRING VALLEY, N.Y. — New York authorities are continuing to investigate the blaze at an assisted living facility that killed Spring Valley Firefighter Jared Lloyd and a resident on Tuesday. 
The Rockland County Sheriff's Office said investigators have not yet ruled out foul play in determining the cause of the fire, according to The Journal News. Rockland County Fire Services Director Chris Kear said officials are working to determine whether there were sprinklers installed throughout the entire building and whether those sprinklers were functional at the time of the blaze.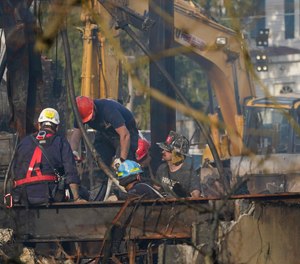 Firefighters battling the blaze were hampered by low water pressure from nearby hydrants, forcing them to extend their hoselines to hydrants dozens of yards away from the scene. The Journal News reported that low water pressure has been a continuing problem in the area. 
The Evergreen Court Home for Adults had previously been cited by the New York State Health Department for 27 violations between Oct. 1, 2016 and Sept. 30, 2020. A 2019 citation noted that the facility must have its sprinkler system and fire alarms routinely inspected. 
Evergreen Director Denise Kerr said that the facility had no outstanding fire safety violations at the time of the fire and an inspection by the Rockland Department of Health in February found that smoke alarms and sprinklers at the facility were up-to-date. Kerr also said that the entire building was equipped with working sprinklers. 
News 12 reported that the building's fire alarms may have been taken down hours before the fire as part of a kitchen cleansing process ahead of Passover, citing "three government and religious leaders." Kear did not confirm this report but told News 12 that officials are investigating "conflicted reports that it was a fully sprinkler building or a partially sprinkler building." 
The blaze killed Lloyd, a 15-year veteran of the Spring Valley Fire Department and Columbian Engine Company, and a male resident whose identity has not been publicly released. Two other firefighters and 13 other residents were also injured in the fire, including one resident who was in critical condition as of Wednesday morning. 
Lloyd was the father of two boys, ages 5 and 6. A fundraiser set up for the family has raised more than $450,000 since Wednesday.