First responders serving Disney World denied workers' comp for COVID-19
Reedy Creek Fire Department employees are fighting the department's policy forcing them to use their personal sick leave if they are infected
---
By Laura French
ORLANDO, Fla. — Firefighters and paramedics who serve Florida's Walt Disney World theme parks and resorts say they are being denied workers' compensation for COVID-19. 
Reedy Creek Fire Department employees are pushing for changes to department policies that force personnel who have tested positive for COVID-19 to use their personal sick days while they are out of work, while employees who are quarantining for exposure are placed on paid administrative leave, according to Click Orlando.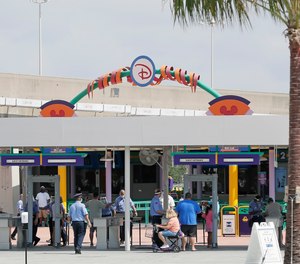 At least three Reedy Creek paramedics have tested positive for the virus and were denied workers' compensation after self-isolating for 14 days, Click Orlando reported.
Reedy Creek Improvement District officials said an internal investigation found that the medics did not contract COVID-19 at work. Officials argued that the timeline of when the medics began showing symptoms indicates they did not have contact with any COVID-19-positive patients at the time they would have been infected, according to CDC guidelines.
Reedy Creek's communications manager also stated that the Disney Parks and Resorts were closed in the time period before the medics tested positive. Some of the parks have since reopened. 
The paramedics said they all worked a shift together on June 29 involving a patient who refused to wear a mask and all three tested positive four days later. Reedy Creek claims none of the patients on the medics' calls between June 23 and July 3 have tested positive. 
According to a statement released by Reedy Creek officials, fire department employees must use their sick time if they are out sick with COVID-19 and have 144 hours of sick time they can use. 
Reedy Creek IAFF Local 2117 President Tim Stromsnes told Click Orlando he wants the district to "do the right thing" for first responders who contract the disease. 
One of the employees who tested positive, Paramedic Michael Grant, said that he still believes he contracted the virus on the job despite Reedy Creek's statement.
"We're on the front lines dealing with COVID every day," Grant told Click Orlando. "For us not being taken care of is a slap in the face." 
[Read next: Reedy Creek: The happiest fire department on earth]