Judge rules for bearded DC firefighters
---
By Sarah Karush
The Associated Press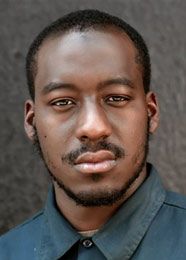 AP Photo George Widman
Curtis De Veaux poses for a photo in Philadelphia. In a separate court case in 2005, a judge ruled the Muslim firefighter could not wear a beard on the job because of the safety risk.
WASHINGTON, D.C.  — A federal judge on Friday struck down a requirement that firefighters in the District of Columbia be clean-shaven.
A group of firefighters who wear beards for religious reasons first sued in 2001 to challenge the fire department's "grooming policy." That policy was replaced with a safety policy in 2005 that held that beards are not compatible with breathing units because they make it impossible to form a tight seal around the face.
U.S. District Judge James Robertson ruled that the district did not meet its burden of proof under the 1993 Religious Freedom Restoration Act to show that being clean-shaven is required to safely wear a self-contained breathing apparatus, or SCBA.
"Moreover, the Department has conceded that, for the vast majority of firefighter activity, a perfect seal between the face mask and the face is not required for safety," Robertson wrote. "The Department fully concedes that bearded firefighters have worn SCBA units for many years without incident."
Alan Etter, a spokesman for D.C. Fire and EMS, said he was not aware of the ruling but said the department would comply. However, he criticized the idea that a bearded firefighter would be safe. He said some of the plaintiffs had already left the department and those who had not were in non-firefighting roles.
"This fire department will never endanger the lives of firefighters, and this is essentially what this is doing," he said.
But Robertson said the district failed to show that firefighters are more likely to have a mask fit improperly if they have a beard than if they don't.
Robertson said there could be a danger with a negative pressure air purifying respirator, or APR, a lighter-weight device appropriate for longer-term use. When such devices are necessary, he said, firefighters with beards should be reassigned to other duties.
Robertson noted that the District of Columbia is the only local jurisdiction in which the Religious Freedom Restoration Act, the law under which the plaintiff sued, can be enforced.
Many fire departments bar or restrict facial hair among firefighters. In 2005, a judge in Philadelphia ruled that a firefighter could not wear a beard on the job, even though his Muslim faith calls for it.