NJ FFs say layoff notices received during pandemic are 'a slap in the face'
The city of Camden had decided earlier this year to eliminate 12 positions to make up for budget shortfalls
---
By Laura French
CAMDEN, N.J. — A city in New Jersey issued layoff notices to firefighters this weekend, drawing backlash from the city's fire union.
Camden firefighters questioned the decision to issue the notices in the middle of the COVID-19 pandemic after the city drew up a plan earlier this year to eliminate 12 positions to make up for budget shortfalls, according to the Courier Post. State law requires 45 days' notice for layoffs, but Camden IAFF Local 2578 President Ali Cooper said the situation has driven morale "ridiculously low."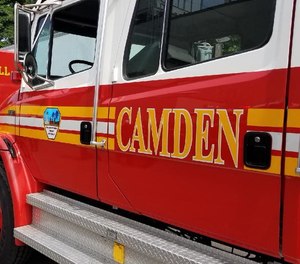 "We know there's a pandemic going on right now but these guys and women are out there, and they're worried about whether they'll have healthcare if they get laid off," Cooper told the Courier Post.
Firefighter Kevin Cooper (no relation to Ali Cooper) said receiving the letters during the crisis was "a slap in the face" to first responders.
"It feels like we are expendable," Cooper told the Courier Post.
Cooper was among several firefighters hired to the Camden Fire Department through a $2.4 million SAFER grant, but changes to grant provisions led the city to form a plan that includes reducing overtime, leaving six open positions vacant and eliminating 12 positions.
The city originally said front-line firefighters would not be included in the layoffs, but adjustments made during the COVID-19 crisis have created more uncertainty, Ali Cooper said. The union president said the mayor should confirm whether or not front-line responders will be affected.
City spokesperson Vince Basara said the layoff notices were "simply part of the process" outlined when the city announced its plans in February, that firefighters' benefits will remain in place and that any layoffs will not occur until June 30.
Ali Cooper also noted that firefighters at the department are also currently dealing with a lack of guidance on infection control procedures and concerns about dwindling PPE.
"Should we be masked? Should fire houses be fogged?" Cooper said in his interview with the Courier Post. "We know it's not just us (dealing with this). But everyone else is talking about hiring and backfilling and we're talking about laying people off."