Pittsburgh asks firefighters to pay back $400K in overpayments
Officials say a glitch in the city's payroll system caused about 240 firefighters to be overpaid by as much as $5,000
---
Bob Bauder
The Tribune-Review
PITTSBURGH — A glitch in Pittsburgh's new payroll system triggered overpayments totaling about $400,000 for nearly half of the city's 600 firefighters, officials said. The city is now asking for the money back.
The problem occurred in late December after arbitrators provided a new five-year contract to the International Association of Firefighters Local 1, officials said. The old contract expired in December 2018. The new pact provided firefighters with retroactive pay from January to November 2019 when arbitrators finalized the contract.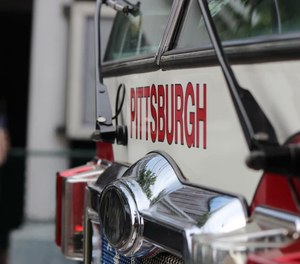 Pittsburgh discovered overpayments ranging from several dollars to $5,000 after paying the firefighters, officials said. About 240 firefighters received overpayments. The city began seeking repayment this month, according to letters written to firefighters.
"We're working very closely with the leadership of the union to make sure this is handled appropriately," said Dan Gilman, Pittsburgh Mayor Bill Peduto's chief of staff. "We want to be as fair as possible. What we will work down, I don't want to talk about it unilaterally, but we want to do it working with the union. It will be a case-by-case basis that we need to look at and work with the union on."
Ralph Sicuro, the firefighters union president, said the issue has created a hardship for firefighters.
"It is an absolute frustration for our members," he said. "The money was deposited into their accounts two, three months ago and that money could already be gone. It's impossible to think somebody's just sitting on a couple thousand dollars that wants to cut the city a check back. We understand they owe it back, just like if they owed us money we'd want it. We just need to make sure we ease this by giving them some options."
The city and union are now working to create a fair repayment plan. Sicuro said the union has proposed several options, including time payments.
Officials blamed a new $1.7 million payroll system provided by Minneapolis-based Ceridian that went online in January. Ceridian did not immediately respond to an email requesting comment.
Employees citywide have complained since January about problems ranging from not receiving a paycheck to errors in direct deposit accounts.
"There continues to be issues with paychecks," Gilman said. "The issues are unacceptable, and we've made that abundantly clear to the contractor."
He said the new system was necessary because the old one was antiquated and Ceridian was phasing it out.
Sicuro said firefighters have experienced problems in each of the six pay periods in 2020.
"We understand when you change to a new system you're going to have some bumps in the road, but Ceridian I believe at this point is failing us," he said. "They're not providing what we need, which is the security to know that your paycheck is going to be correct every time that you cash it."
———
©2020 The Tribune-Review (Greensburg, Pa.)
McClatchy-Tribune News Service