FFs, families plan appeal after judge dismisses lawsuit in 3 FF LODDs
The suit alleged brownout policies in a Delaware city contributed to the deaths of the three firefighters and significant injuries to three others
---
By Laura French
WILMINGTON, Del. — A federal judge has dismissed a lawsuit filed by the families of three Delaware firefighters who were killed and three firefighters who were injured in a 2016 fire, but the plaintiffs say they plan to appeal.
The lawsuit alleged that fire department brownout policies in the city of Wilmington contributed to the deaths and injuries by making one of the city's fire engines and hundreds of gallons of water unavailable to immediately respond to the deadly row home blaze, according to WDEL.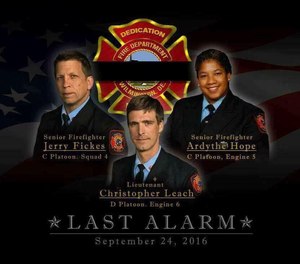 Wilmington Fire Lt. Christopher Leach and Senior Firefighters Jerry Fickes and Ardy Hope were killed in the fire that was set by Beatriz Fana-Ruiz, who pleaded guilty and is serving a 30-year sentence. Firefighter Brad Speakman was severely injured battling the blaze and was forced to retire, and Lt. John Cawthray and Firefighter Terry Tate were also injured.
The judge said the suing firefighters and family members representing the fallen firefighters "failed to allege the necessary underlying constitutional violation" in their allegations, according to court documents.
An attorney for the plaintiffs said there were many errors made in the judicial process and criticized "the 'I don't care' attitude of the city regarding firefighter safety," according to WDEL.
City officials say the firefighters and families have already been paid $11 million in medical costs and benefits and suggested the plaintiffs and their lawyers are seeking "to get even more money from the city … through a quick cash settlement."