Former LACoFD firefighter leaves witness stand 3 times during Bryant trial
Vanessa Bryant's attorneys say a sheriff's deputy led Brian Jordan around to take site photos; the former captain and his lawyer cited stress and trauma
---
By Leila Merrill
LOS ANGELES — A former Los Angeles County Fire Department captain left the witness stand three times during testimony Monday in the civil trial over the sharing of images of the helicopter crash that killed NBA star Kobe Bryant, his daughter Gianna and seven other people.
Brian Jordan resisted questions that made him think of that day, CNN reported.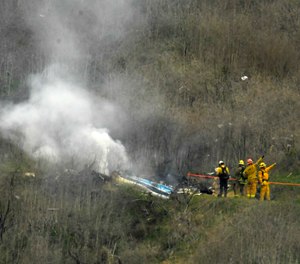 Attorneys for Vanessa Bryant, widow of the Lakers legend, claim that a sheriff's deputy led Jordan around the scene to take site photos, including crash wreckage and victims' remains.
"Kobe Bryant's remains were among the pictures?" asked Bryant attorney Luis Li before Jordan interrupted him.
"I need a break, I need a break," Jordan said, standing up. "Sorry your honor," he said as he walked off the stand the first time.
Jordan said working the crash was stressful.
Li said that Jordan left the stand with his attorney each of the three times, CNN reported.
Steven Haney, Jordan's attorney, told CNN that his client's departures from the court room were a reaction to "a medical condition associated with his viewing of the crash scene, and it causes him to suffer trauma."
Jordan repeatedly said he did not remember taking photographs because he blocked that day from his memory since retiring in  2021.
Los Angeles County sheriff's deputies who received and shared the scene photos with each other also testified.
One of them was a trainee, Deputy Joey Cruz.
"Looking back, do you think there was any reason for you to receive these accident photos?" plaintiff attorney Craig Lavoie asked.
"Looking back on it today, no," Cruz said. He said he initially accepted them thinking he might be tasked to write a report.
He said he showed the photos to a bartender who is a good friend.
"He's a close friend that I vent to," Cruz said. "I took it too far, something I shouldn't have done."
The trial is ongoing.