Fire service leaders give thanks
FireRescue1 editorial board and team members are thankful for so much this holiday season
---
Thanksgiving is a time to reflect on what we are thankful for – our health, family, friends, careers, and all the other pieces of the life puzzle that bring joy to our lives.
As we recognize this year's Thanksgiving holiday, we asked members of the FireRescue1/Fire Chief editorial advisory board, as well as editorial staff members, to share what they are most thankful for this year – with a fire service spin. Here's what they shared:
Billy Goldfeder, Deputy Chief, Loveland-Symmes (Ohio) Fire Department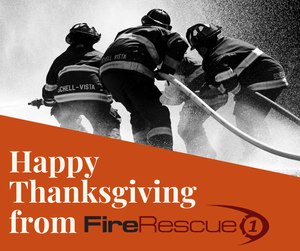 I'm thankful for my health and my entire family and friends, and understanding that you have to work hard to show that appreciation every day – and it's gotta be more than words.
I'm also thankful for open-minded leaders who prove they are willing to remember and act on the fact that we are here for those who need us (civilians and our firefighters) versus any other distractions or focus. Stay focused on what's best for them, and it's all good – and for that I'm very thankful.
John S. Butler, Fire Chief, Fairfax County (Virginia) Fire & Rescue Department
I'm thankful for our department's team members who do not wear a uniform: our civilian leadership and support staff. While they don't ride emergency response vehicles, nor do they suppress fire and/or provide emergency medical care, it's their role in the department that ensures that our emergency responders are able to provide those services to the community.
Linda Willing, career fire officer (ret.); consultant, RealWorld Training and Consulting
I am grateful to be in good health at this point in my life, especially since my fire service career started before things like diesel exhaust systems and medical gloves became standard practice. I am thankful that the health of firefighters today is a high priority for organizations, and glad that the battles we fought in that regard have made life safer and healthier for those who serve today.
Gary Ludwig, fire chief, Champaign (Illinois) Fire Department; president, International Association of Fire Chiefs (IAFC)
I feel like I am the most blessed man in the world. For the last 40,000 years since man appeared, they have mostly had to hunt their food, look for water, collect firewood to stay warm, travel on horses or in wagons. They had no real medicine when they got an infection or got sick. They had no electricity, and when it got dark, they had little else to do unless they were close to a fire, candle or an oil lamp.
But that all changed in the last 150 years or so, and now we pick our food off the shelves, go through a drive-through and we get handed a bag of food, turn on the heat when we're cold or air conditioning when we're hot. We have clean water and sanitation. We no longer travel by horses or wagon and we zip along in our cars, planes, trains or other transportation with devices to keep us entertained.
Most any condition that ails us can be dealt with through taking medicine or surgery. And on top of that, I live in a country where I enjoy tremendous freedoms. Add that to the fact that I have a beautiful family with a wife, children and grandchildren, and I have had a career for 42 years that has allowed me to be part of something bigger than myself – the fire service.
My life has not been in vain. I get to make a difference everyday by what I do. So do I have much to be thankful for? Absolutely! I am living in the best of times, in the best country, with a beautiful family, and I am fire chief in the best profession in the world. I am thankful! Yes! And I give thanks every day! 
Billy D. Hayes, fire chief, Onalaska (Wisconsin) Fire Department
In 2018, I accepted the position of fire chief for a combination department in Wisconsin. For over 6 months, my wife of only two years waited patiently behind at our home in Alabama while I continued to chase this fire service profession in a distant land. I am thankful for a loving and understanding wife who held down the home front while I was over 1,000 miles away playing fire chief. When the time came for her to join me, it also displaced our children and pushed them to learn to live the beginning of their adult life not under the roof of their Mom and Dad. I am thankful for my family who continue to support me despite all the challenges I have put them through over my career. The family of a fire service member should never be underestimated in the role they play in our lives and the success we encounter. Be thankful for what's most important in your life!
Pedro Cáceres, battalion chief, Wayne Township (Indiana) Fire Department
I am thankful for public safety and military servants who in the pursuit of their endeavors often pay disproportional costs on their physical and mental health or even their lives. I am also thankful for the often-invisible families who manage the aftermath as they try to help their loved ones recover. Finally, I'm thankful for those who work in the frustratingly bureaucratic systems but who give their best to help both families and servants heal.
Dr. Lori Moore-Merrell, president/CEO, International Public Safety Data Institute
I am thankful for the firefighters, paramedics and officers on the frontline every day! I am also thankful for the opportunity to work to protect them by ensuring they have the information necessary to respond safely, efficiently and effectively on every call. I am thankful for the family of researchers who have dedicated their careers to finding answers to keep firefighters safe and healthy. I am thankful for the families, including mine, who are supportive as we serve.
Ted Aroesty, executive director, Brighton (N.Y.) Fire District
I am thankful for the opportunity to serve others and that we have been given the chance to improve the lives of those we serve. I appreciate the understanding and values that I have from the many situations I have seen and experienced in this career, and have developed a better appreciation for all the good in my life. I am grateful for the many blessings I have, my wife and my children, who keep me grounded at the most difficult times.   
Marc Bashoor, Public Safety Director, Highlands County (Florida) Fire Rescue; executive editor, FireRescue1/Fire Chief
I'm thankful for a wife and family who understands this crazy public safety world! I'm thankful for the faith my County Commission has placed in me to build a new combination fire-rescue department that will ultimately provide better service to our County. I'm thankful that the fire service in general, and many of our legislative bodies, are paying attention to the reduction of cancer in the fire service. I'm thankful to hold positions that provide a voice for the everyday firefighter, the everyday chief, and the service improvement in general.
Greg Friese, editorial director, Lexipol/FireRescue1/Fire Chief; editor-in-chief, EMS1.com; paramedic
I am thankful for the firefighters, EMTs and paramedics who have the courage to seek out help when they are having thoughts of self-harm. I am thankful for the peer support teams, EAP counselors, clergy, and mental health professionals who listen, facilitate help, deliver treatment and then advocate for that person to return to duty when they are well.
As for me …
I am thankful to for my second family – my fire service family. Working in fire service media has afforded me the opportunity to meet and collaborate with passionate, sharp, altruistic people, from my team members at Lexipol to the countless firefighters who serve their communities throughout the country.
Thank you to all the members of the FireRescue1 and Fire Chief community as well as all the humble public servants working tirelessly to protect your communities. We appreciate everything you do to protect us, and we are immensely thankful for you!