How to demonstrate your fire department's value to the community
IAFC FRI speakers discuss how fire and EMS departments can present data to elected officials, the media and the community at-large
---
Chiefs John Binaski and Michael Despain will be speaking at the International Association of Fire Chief's Fire-Rescue International conference on the importance of reporting your agency's real value to the community on August 8. If you're interested in attending, you can register here.

As a fire chief, how would you want a member of your community to respond when asked what they think of your department or agency?
Most likely, you would want to hear something positive or constructive. But what if the feedback you're receiving isn't exactly accurate?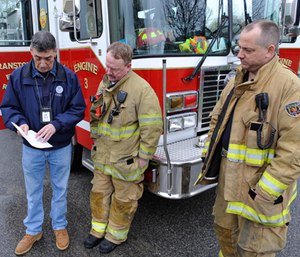 In their presentation at the International Association of Fire Chief's Fire-Rescue International conference in August, Chiefs John Binaski and Michael Despain will discuss how fire and EMS departments can present data that's easily and quickly understood by elected officials, the media and the community at-large. Their seminar, "Measuring and reporting your agency's real value to the community," will be held August 8.
Chief Binaski is a 25-year fire service veteran and is currently the chief for the City of Clovis (Calif.) Fire Department. He's also an instructor for the College of the Sequoias Fire Technology Program.
Chief Despain is a 32-year fire service veteran and is currently the chief for Lincoln (Neb.) Fire and Rescue. He previously served as deputy chief and interim fire chief in Fresno, Calif., and was also the fire chief for the City of Clovis, Calif.
Thankfully, according to Binaski and Despain, there are some core measurements that fire and EMS departments can use in order to demonstrate their actual value to the community.
Relevant data analysis measurements
Regardless of their size, every fire and EMS department brings something different to the community they serve. Response times and call volume, Despain says, are very one-and-two dimensional in nature and do  not provide an overall picture of how the department is performing.
"The better way to measure value is in terms of outcomes," he said. "Outcomes are kind of like the bottom line of a profit and loss statement in business; no one cares that much about all the details above the line as long as the numbers below the line are favorable."
In other words, your community may not weigh response times too heavily if the time it takes to process the call is too long. Additionally, response times may not be at the forefront of their minds if an agency arrives on scene without the proper staffing, skills or equipment for the call.
"Outcomes are most important and probably simpler for the community to understand," Despain said.
According to Despain, there are a handful of measurements fire and EMS departments can provide to their community that better answer those "bottom line" questions, including:
Cardiac survival rates.
Percentage of time a fire is stopped in a room of origin.
Operational costs compared to other similar agencies.
How changes in the level of service impact fire insurance premiums.
"These are examples of measurements that answer the questions the community is [asking], especially around the time taxes and budgets are being discussed at the political level," he said.
However, to understand what questions your community wants answered, you need to be able to analyze and draw conclusions about different aspects of your agency.
Exploring 911 response outcomes
For Despain, his research on what mattered most to his community was jumpstarted by asking the question: "How can we prove our value as a fire agency?"
"All the conclusions did not come at once, but only after a number of years of looking at different aspects of the job and consulting with other colleagues in the industry," he explained.
After working for a number of agencies, Despain said he began to see certain patterns form.
"For me, cardiac survival became one of the biggest indicators of service levels after I learned of other agencies having very good and measurable success in this performance indicator, yet the local private ALS provider in my community had very poor performance for a community that mathematically paid a greater share of their profit margin."
Most of the information Despain gathered was from researching the impacts of:
Incidents from the 911 call until a structure was fully repaired.
When the patient was released.
Asking local insurance providers about things that happened along the path of restoring a structure.
And, when he learned about the private ALS provider's poor performance measurements, he confronted them with the data. "They changed their deployment to shore up their numbers for a community that demonstrated they were now watching," he said.
Despain shared a three-step process for public safety agencies for sharing meaningful data with the community:
The first task for all chiefs, Despain says, is to make sure you're gathering the correct data. For example, many agencies may have invested in a software program that tracks response time, but still doesn't track when and where a fire was stopped."Many don't track cardiac outcomes and many don't even know their true response times as they don't track the 911 calls from initiation – only when they are notified," he said.
Once chiefs have the correct data, Despain says they need to communicate it in a simple yet effective manner to their community. "Always think of the 'what's in it for me' perspective of the customer," he said. "Such as: how likely is my life or the lives of my family going to be saved from bad things; how much is the service going to cost me; and how much would it cost me (in insurance costs) if you, the service, was diminished or deleted."
Finally, the agency or department also needs to be transparent. "In the age of open data, agencies that cower from full disclosure will face rapid and painfully imposed change if they don't address poor performance," he said. "Agencies that are courageous can make necessary changes as they progress and gain even more trust from their communities in the process."
As a chief, Despain said he wants his community to be relieved and pleased when they see the service levels his department is providing.
"I would love to hear my community members bragging to other communities about their local fire department," he said.
And, when in doubt, remember to always keep the "what's in it for me" perspective when measuring and reporting your value to your community.