Mass. town suspends emergency services director position after FFs demand resignations
Rockport officials plan to have a third party conduct an audit of its services after a majority of firefighters threatened to quit
---
Michael Cronin
Gloucester Daily Times, Mass.
ROCKPORT, Mass. — The position of director of emergency services in Rockport has been suspended, and selectmen will begin looking for an outside third party to conduct an audit of the Rockport Fire Department.
Selectmen voted unanimously on both motions at a much-awaited meeting on Tuesday night. Up to 191 people logged on to the Zoom meeting to see what selectmen would do after receiving a letter from the Rockport Fire Department demanding the resignation of Emergency Services Director Mark Schmink and Assistant Fire Chief Steven Abell Jr.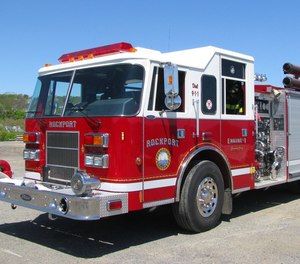 "It's not an instant win on either side," said Selectmen Chairman Ruth George. "It's going to be a slow process, but it's a good start."
Ultimately, selectmen did not discuss removing Abell from his role. George reminded everyone at the start of the meeting that the selectmen discuss town positions, not the people who fill them.
The motion to suspend the director of emergency service position was presented by Selectman Don Campbell. Campbell said he's heard the Rockport Fire Department has spoken "loud and clear" and that he believes suspending the position is "the first step forward to get their peace of mind."
Schmink was appointed to the position in the summer of 2019 in addition to being named the town's first assistant police chief. As director of emergency services, he was tasked with overseeing the Fire Department, Harbormaster, Forest Fire and Animal Control departments and the town's ambulance response team. According to George, the focus of the position was to "try to get all these small departments going in the same direction."
Although Schmink's position is dissolved for the time being, he won't be receiving a pay cut. Town Counsel Michelle Randazzo said selectmen would need to meet in executive session to discuss any pay cuts. Future plans to formally address a pay cut were not discussed by selectmen during the meeting.
The director of emergency service position will remain suspended until an outside review of the town's emergency services is completed.
Selectwoman Sarah Wilkinson brought forward a motion to allow the town to bring on a third-party consultant to conduct the audit — again, all five voted in favor of the motion.
The scope of the audit will be decided by selectmen at a later date. George said she was in favor of hiring an auditor with volunteer firefighter experience.
While voting in favor of the motion, Selectman Paul Murphy wondered aloud about the costs of the audit. He suggested looking into if the situation could be handled in-house by either selectman or regional Human Resources Director Michelle Lee Carroll. ampbell disagreed, saying it was a vital expenditure for the town.
"I don't want to say it's not relevant, but if it costs 'X' amount of dollars, it costs 'X' amount of dollars," he said. "We are perceived by some in the public that we're part of the problem."
It would be in the town's best interest, he continued, if selectmen hired the consultant and "went hands-off at that point."
During public comment, many in attendance said they believed selectmen were making a positive step in the right direction. However, some did not believe they went far enough. Capt. Frank Favaloro of Rockport's Pigeon Cove fire company demanded the selectmen reinstate Fire Chief James Doyle immediately.
Doyle is on administrative leave for reasons that are unclear at this time. Favaloro claimed he was placed on leave shortly after members of the Rockport Fire Department issued their letter Nov. 9 to selectmen.
Doyle could not be reached by phone Tuesday afternoon. At his home, a woman answered the door and quickly turned down any questions from the Times.
"It is a personnel issue and the town is not able to comment further," said George in an email Tuesday afternoon.
Assistant Fire Chief Kirk Keating is taking over the chief's duties for the time being. According to George, he and Town Administrator Mitch Vieira are "working on the interim change of command" and "going back before we had an emergency service position while the position is on hold."
Keating declined to comment on Doyle's administrative leave.
At the meeting, Wilkinson said Doyle's leave had nothing to do with firefighters' letter to the selectmen.
George said the town has not and will never act in retaliation for those who speak their mind.
In addition, all selectmen reiterated there is no plan to dismantle the volunteer Fire Department and hire full-time firefighters.
___
(c)2020 the Gloucester Daily Times (Gloucester, Mass.)
McClatchy-Tribune News Service