NIOSH: Miscommunication, lack of data contributed to firefighter's death
Lt. Bruce Britt, a 23-year veteran, died in a walkway collapse while evacuating apartment residents
---
The National Institute of Occupational Safety and Health issued a line-of-duty death report that cited a lack of information, planning and awareness, combined with deterioration of a walkway, as contributing to a firefighter's death.
On Feb. 22, 2014, Lt. Bruce Britt, a 23-year veteran with the Columbia (Mo.) Fire Department, died while trying to rescue residents trapped by a walkway collapse at a university student housing complex. He was killed when a walkway collapsed beneath him.
Lifesaving measures were immediately started after Lt. Britt was extricated from underneath the walkway. He was transported to a hospital, where he was later pronounced dead.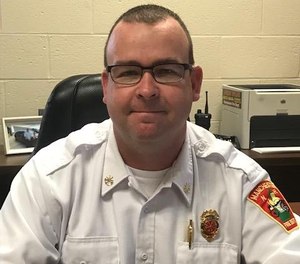 An autopsy concluded that Lt. Britt died as a result of traumatic compression asphyxia.
NIOSH investigators identified the following items as key contributing factors in this incident:
Deterioration and collapse of concrete walkway.
Awareness of the building condition not communicated to the fire department.
No site pre-incident planning.
Inadequate caller information influenced dispatch information provided to responding units.
A lack of situational awareness.
Investigators also made five recommendations for the department to carry out and enforce.
1. Higher education facilities, sovereign entities and authorities having jurisdiction should have inspection and remediation strategies for student housing complexes and have programs to immediately address potential hazards.
Inspecting delaminating concrete walkways for structural issues was not part of the inspection process. Additionally, law enforcement, EMS, and fire departments should have access to building information or to the actual buildings. This will enable them to locate building access points and to identify potential hazards related to construction type.
2. Fire departments should train its members in situational awareness and personal safety.
Members can maintain better situational awareness by looking up, down, and around themselves for other potential hazards as well as listening for new or unusual sounds or movement. Any changes that are observed or heard on the incident scene should be immediately communicated to other members as well as to the incident commander.
3. Individuals who could act as a safety officer at an incident should be adequately trained and designated as incident safety officer.
Instituting a position and designating a fire department member as the incident safety officer would alleviate the potential for the incident commander having to act as the safety officer and/or having to appoint an available firefighter or officer arriving on scene. The designated position within the department allows for a safety officer to automatically respond to incidents as defined by the fire department.
4. Dispatch centers should ensure that all information taken by a call taker is clearly understood and provided to or simultaneously viewed by a dispatcher so that all available information is provided to responding emergency personnel.
According to the recorded 911 call, the initial complaint was a "roof collapse." Had this information been provided to responding units, it may have prompted responding firefighters to conduct further size up of building conditions.
5. Higher education facilities, sovereign entities, and authorities having jurisdiction should work with fire departments to develop pre-incident plans for buildings within their jurisdiction and consider making this information available on a mobile data terminal or tablet within all fire department vehicles.
Information such as potential safety or code violations and whether the building has been abandoned or undergoing extensive renovation can provide valuable assistance to firefighters and officers responding to an incident.