Ready or not, change is coming to the fire service
Fire service leaders need to lead the way forward with social, technological and financial adaptations
---
By Jay Fitch, PhD
Think about your greatest personal strength. It may also be your greatest weakness. 
The same is true for the fire service as a profession. The fire service's greatest strength is our history of selfless service to others and respect for our unique traditions. But our respect for tradition has also been our greatest weakness. It makes us cling to the past, even when doing so no longer makes sense.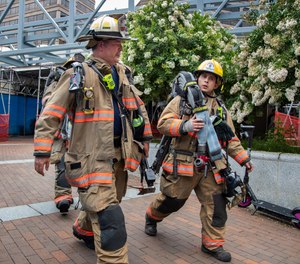 Having been involved in the profession for over 45 years, I've experienced bending and breaking of a number of fire service traditions. As a young volunteer, I remember being shamed by grizzled-up older members of the department who scoffed at wearing SCBA – not to mention that when they came out of a smoky house fire, the first thing they did was to light up a cigarette! I also remember feeling ashamed that I didn't speak up when several older department members trained the station's Dalmatian to chase African-American delivery persons. As a new junior member, I felt powerless to change the situation.
Change happens, ready or not.
[Read next: How to change fire service culture]
Looking back: Fear turned to appreciation
I remember with great pride the first day our station had a Black member join the duty crew. Multiple members worked hard to make sure the individual was welcomed in what could have been an awkward situation. As a medic, I also remember my first female partner and how some members' spouses were exceedingly unhappy that their husbands would be "sleeping with" an attractive young woman.
Fears turned to appreciation as the "Black firefighter" became just "a firefighter" and trusted member of the crew. My partner became recognized as an extremely professional role model for other women who had previously been excluded. And, in an ironic twist, one of our subsequent hires was one of those formerly petulant and complaining spouses – and her orientation was conducted by my partner. It took decades, but what an achievement for these once-shunned department members become chiefs and be judged based on their competence rather than their skin tone or gender.
Looking forward: A season of great change
The fire service now finds itself in another season of great change. Change is happening on social, technological and financial fronts.
The changes happening outside fire stations in many American cities are disorienting. In some areas, it seems more like revolution than healthy evolution. But looking forward rather looking back is essential for the future of the fire service.
Social change: Social change is defined as human interactions and relationships that transform culture and institutions. Fire service culture and the fundamental fabric of our organizational mission is changing. While we cannot deny that we are cut from the public safety cloth and have historically been closely aligned with law enforcement, the fire service is rapidly becoming more of a healthcare and social work agency, whether we like it or not. We are expected to treat all with kindness and respect, deescalate tense situations and be extraordinarily professional, even when we don't believe the criticality of the patient's situation requires our involvement. First responders are increasingly expected to help others navigate the raw edges of our society. That expectation puts the fire service on the front line of social change and, while we may feel unprepared, it has to be faced.
Technological change: Technology is rapidly changing around us. As a firefighter who started my career riding a tailboard, it's more than a bit perplexing to grasp the technology transformation currently underway. High-tech devices – including advance biotelemetry to monitor firefighters during interior attacks, virtual reality-based training devices, in-facepiece vision providing digitized and contrasted edge detection, in addition to thermal imaging – are changing the way we train for and fight fires. Artificial Intelligence is providing real-time traffic analytics for deployment of "closest" units. Body cameras and telemedicine are increasingly becoming more common. Yes, technology is changing the profession and leaders need to embrace it.
Financial change: Financial uncertainties are also creating fear within the fire service. Underfunded pension systems coupled with compressed tax bases and expanding service expectations are requiring chiefs and labor groups to approach things differently. The days of believing "politicians can't touch us" are over. Fire service leaders are contemplating how to reduce expenditures and demonstrate increased value in the services provided. We are moving from "a station every neighborhood" model, regardless of demand or hazards, to conducting prospective risk-based assessments that include sophisticated historical data analysis. Leaders are making realistic, outcome-based, strategic investments rather than simply lobbying for increased funding solely based on history, tradition and emotional factors.
[Read next: The fire service budget tsunami is coming]
Be the fire service agents of change
I write this in the midst of one of the deadliest pandemics experienced in the past 100 years. Who would have imagined six months ago that we would be wearing masks as we go about our daily chores or having to wear extensive PPE on every assignment to protect our health and that of our families? It's a change that none of us desired, or anticipated, but now recognize as an imperative.
Leaders need to be the high-beam headlights of change that light the way forward rather than watching the taillights of change as it passes by. We must not fear change. Alternatively, we need to embrace it, use it and learn to better manage change processes for the benefit of the profession.
Although change may seem scary or even threatening, our commitment to leadership requires us to become agents of change.
ABOUT THE AUTHOR
Jay Fitch, PhD, is a founding partner at EMS/public safety consulting firm Fitch & Associates. He served as a volunteer firefighter in Fairfax County, Virginia, before becoming one of the early medics trained in the United States. He has directed and designed major EMS systems throughout the nation. Contact him directly at jfitch@emprize.net.