The Ethos exercise: Challenge your recruits to define their values
This Fairfax County Fire & Rescue Department exercise guides new members and challenges them to own their vision and mission
---
Well over a year ago, the Fairfax County (Virginia) Fire & Rescue Department launched a Professional Development initiative called the "Ethos exercise." The intent was to have each recruit school define its ethos as part of our leadership lecture series that we teach to the recruits. The ethos assignment aims to give the recruits an identity while simultaneously allowing them to develop and take ownership of their vision and mission while at the training academy.
The recruits' final vision incorporates the many followership and leadership traits that we, as leaders in Fairfax, hold in high regard and that our community has come to expect from our department. Their ethos tells a story of who they are and what they represent as they begin their careers as Fairfax County firefighters. Our challenge to them: During their tenure at the training academy, their words must match their actions, and this philosophy must become part of their character.
Ethos vs. ethics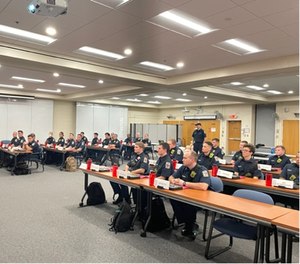 So, what is an ethos? Ethos is a Greek word that can mean character, custom or habit. Ethos has also been used to describe a set of principles or values that define a community. If we look a little deeper and explore some associated synonyms, we find words such as beliefs, mindset and culture.
Let's now consider how ethos compares to a similar word – ethic. Ethic is another Greek word, this one derived from the word ethos. While similar in spelling, they do not share the same meaning. Ethics are what we, as an agency (or more globally as a society) perceive or determine to be right or wrong, or in other words, what is acceptable regarding conduct.
Ethos in leadership
Our Leadership 1.0 class, Principles of Followership, is delivered during Week 2 of recruit school, which is by design. The purpose is twofold:
We teach our newest employees and future leaders the many elements of leadership and followership; and
We want to understand their core values.
For the ethos exercise, the class is divided into two groups, with each half is responsible for developing their own ethos statement. Once complete, the recruits work as a team to consolidate the two working drafts into one final ethos statement.
To provide guidance, we ensure that they understand the significance of our core values, mission and vision statements, and the foundational leadership traits that are important for fire service professionals.
Seek to understand
Why do we put the recruits through this exercise? After all, if an agency has established core values, then why not simply teach those values? One of the many philosophies within the Training Division is that before we teach to an audience, we must first seek to understand those that will receive instruction.
One of the best methods to understand others is to ask questions and listen to learn. The ethos exercise allows us to understand and learn from our newest employees about beliefs, values, mindsets, principles, morals and integrity.
This team-building exercise is a shared vision that affirms our core values, professionalism and community expectations. When a fire and emergency service organization takes the time to listen and learn from its newest employees, we begin to create a culture of empowerment and ownership. These actions start to wash away a default culture, designing an intentional culture that embraces its core values and commitment to the community is further strengthened.
157 Ethos
The final ethos for the 157th Recruit Class is captured below. The core values of the Fairfax County Fire & Rescue Department are represented in their statement, along with the values, beliefs and principles of our newest recruits. This statement is designed to define their individual and team achievements during their time in recruit school. Six months of demanding mental and physical preparation ensures that they are ready for a lifetime of community service.
The last sentence in their ethos statement has a profound meaning – not only does the 157th win, but all of us are winners when we embrace "Trust Through Competence."
Recruit Class 157 Ethos: Trust Through Competence
We are firefighters of Fairfax County Fire and Rescue. We represent the department through professional excellence, integrity, teamwork, and shared leadership. We will be brilliant at the basics. We will not settle for mediocrity but strive for perfection in everything we do. We will give one hundred percent of ourselves each day and pledge to be continual students of our craft throughout our years in support of the department's mission. We will succeed or fail as a team and embrace our diversity, for they make us strong. We will be honest in all that we say and do, for without our integrity; we are nothing. Class 157 will win!"