The impact of Alan Brunacini: What all firefighters should know about 'America's fire chief'
Bruno's impact on the fire service is far-reaching and profound, particularly in the areas of safety, command and customer service
---
Chief Alan Brunacini may be the most well-known and respected fire chief to have ever served the American fire service – and for good reason. His impact on the fire service is far-reaching and profound, particularly in the areas of safety, command and customer service.
I feel so grateful that I was not only able to meet Chief Brunacini but even share a few meals with the legend and hear some of his words of wisdom firsthand. In fact, at one dinner with the chief and several other fire service leaders, I sat in awed silence listening to what was easily the most insightful discussion about complex fire service issues that I had ever heard – and likely ever will. Chief Brunacini's ability to unpack a dynamic problem, locate the root of the issue and offer a compelling solution was unparalleled. Even in that moment, I knew I was witnessing something profound – and yet, for those who knew the chief well, they might tell you every conversation with him was profound. He just had that way.
Although new firefighters joining the ranks will never have the opportunity to meet Chief Brunacini, there are many extraordinary resources from which all firefighters can learn about this fire service icon – his books, videos of speaking engagements and interviews, and his friends and colleagues who continue to share his words of wisdom and the tales of his firehouse visits.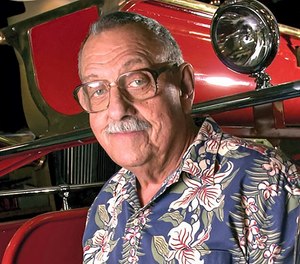 We'll get you started. Following are several facts about Chief Brunacini that all firefighters should know.
Just 'Bruno'
Chief Brunacini was known to friends and peers as simply "Bruno."
'America's fire chief'
Although he would have never used the phrase himself, Bruno was affectionately referred to by others as "America's fire chief," as he had an extraordinary way of connecting with all members of the fire service. He garnered respect from all levels, from the newest probie to a chief with decades of experience.
50 years deep
Bruno himself had over 50 years of experience in the fire service. He joined the ranks of the Phoenix Fire Department, assigned to Engine 1 in downtown, in 1958.
Phoenix Fire evolves
Bruno rose through the ranks in Phoenix, serving as a firefighter, engineer, captain, battalion chief and assistant chief. He was appointed fire chief in 1978. Under his leadership, the Phoenix Fire Department became known as a progressive, safety-oriented department.
Command in focus
Bruno could be deemed 'the father of fire command,' bringing the concept of fireground organization to the fire service in a formalized manner. He believed that an organized fireground was a safer fireground where incident commanders (ICs) could make calculated decisions based on standardized procedures.
Further, Bruno was the force that brought command vehicles into the mainstream fire service, proving that ICs could in fact run the show from inside the isolation of a command vehicle. The emergence of fire command training centers is also attributed to Bruno's command focus.
"Fire Command" – one of Bruno's many books – is widely regarded as a must-read among fire service leaders. He also authored "Essentials of Fire Department Customer Service" and "Command Safety" among several others.
Blue Card certification
Similarly command-centric, Bruno recognized a gap in fire service education for ICs. Working with his sons Nick and John, who were also firefighters, Bruno developed the Blue Card training and certification program to qualify ICs.
Standards shape the service
Brunacini held a seat on the NFPA Board of Directors from 1978 until 1984, when he was nominated second vice chairman, then first vice chairman in 1986. He ultimately became NFPA's chairman of the board from 1988 until 1990. 
Bruno helped shape the fire service during his tenure as chairman of the technical committees for two critical NFPA standards – 1500 and 1710.
When drafted, NFPA 1500: Fire Service Occupational Safety and Health (now Fire Department Occupational Safety, Health and Wellness Program), was an incredibly controversial document, as it introduced firefighters to enclosed cabs and full turnout gear – hallmarks of Bruno's safety focus.
Later, with NFPA 1710: Standard for the Organization and Deployment of Fire Suppression Operations, Emergency Medical Operations, and Special Operations to the Public by Career Fire Departments, Bruno again pushed for safety-based change, this time focused on minimum staffing requirements.
Customer service, Mrs. Smith and "Be nice"
Bruno reimagined the citizens served by fire departments as customers – customers who need some TLC on their darkest days. He personified fire service customers as "Mrs. Smith," underscoring the need to take care of her and deliver exemplary customer service at all times. Some in the fire service pushed back on this "softer" approach, but his message ultimately caught on and his book "Essentials of Fire Department Customer Service," was even featured in The Wall Street Journal.
Bruno's go-to piece of advice was simple: "Be nice." The phrase was applicable not only to Mrs. Smith, but also our fellow members, external agency representatives – really everyone, all the time.
3 phrases for safety
Beyond "Be nice," Bruno introduced the fire service to a trio of phrases that supported the safety mindset:
Risk a lot to save a lot
Risk a little to save a little
Risk nothing for what is already lost
Bruno encouraged calculated, smart, risk-oriented decision-making.
His message made a difference, too. During his time as a fire service leader, pushing for safety, the annual number of firefighter line-of-duty deaths began to drop.
Learning and teaching
Brunacini attended the Oklahoma State University Fire Protection Technology Program, graduating as a fire protection engineer. He later received a political science degree from Arizona State University. His education also includes the Urban Executives Program at MIT and a master's in public administration from Arizona State University.
Bruno was a big believer in being a lifelong learner – and then taking that knowledge and imparting it on others. He loved talking to firefighters about all aspects of fire service life, and firefighters would listen intently to his words of wisdom. But he was also a quiet soul, believing strongly that we have two ears and one mouth for a reason.
Chief Brunacini authored or co-authored nine books, and took time to speak at multiple national conferences and write for various fire service websites and publications.
Retirement didn't stop him
Chief Brunacini retired as the fire chief of the Phoenix Fire Department in 2006, but that didn't stop him from continuing to educate the American fire service through speaking engagements, writing opportunities and, of course, continuing share stories at the kitchen table.
On the lighter side
If you saw a short-statured man in a Hawaiian shirt walking the hall at a fire conference, then you probably had a Bruno-spotting. Bruno loved wearing Hawaiian shirts – to all types of events.
Losing a legend
Chief Alan Brunacini died on Oct. 15, 2017, at the age of 80.
Many fire service organizations, media outlets and fire departments shared tributes to "America's Fire Chief."
Brunacini was survived by his wife Rita; his three children, Nick, John, Candi; his grandchildren; and, really, the entire American fire service.
Did you meet Bruno? Share your memory of that meeting and the wisdom you carry with other firefighters and officers in the comments.
Now, it's time to test your knowledge of this fire service icon: