2 LA County firefighters face firing over graphic photos of Kobe Bryant helicopter crash victims
Documents related to the lawsuit filed by widow Vanessa Bryant reveals two firefighters were terminated in December and another was suspended
---
Nancy Dillon
New York Daily News
LOS ANGELES COUNTY, Calif. — Two Los Angeles County firefighters who allegedly took souvenir photos of victims' remains at the scene of Kobe Bryant's horrific helicopter crash last year are facing termination, a new court filing claims.
The firefighters were sent "notices of discharge" on Dec. 2 as part of a disciplinary action that "recently" came to light after widow Vanessa Bryant filed a lawsuit claiming multiple sheriff's deputies snapped or shared similar photos of the January 2020 tragedy, the paperwork says.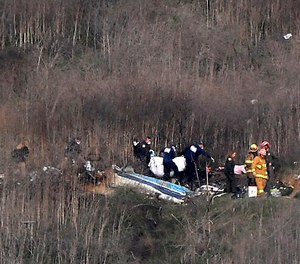 Vanessa's lawyers revealed the firefighters' alleged misconduct in a Monday motion asking for more time to follow new leads and collect more devices for forensic examination.
The lawyers faulted county officials for choosing "to wait until March 22″ to hand over the internal reports detailing the firefighters' actions even though the department "decided to discharge" them months earlier.
The reports said the firefighters had snapped images of victims' remains that "served no business necessity" and instead "only served to appeal to baser instincts and desires for what amounted to visual gossip," the paperwork states.
"Both of the employees sent their graphic photos to a third fire department employee who was on site to assist with press briefings," the filing claims.
"Then, the employee who received the photos shared them with a group of off-duty firefighters and their wives and girlfriends during an awards ceremony at a Hilton hotel in February 2020," the paperwork states.
The third firefighter was suspended, the filing claims without naming any of the involved personnel.
A Los Angeles County fire captain and media liaison identified as Tony Imbrenda previously filed his own civil action related to the crash, saying he was retaliated against for refusing to hand over his personal cellphone for inspection after he already handed over his department cellphone and laptop.
Los Angeles County lawyers have claimed Vanessa's lawsuit has no merit, arguing in an April 30 filing that it should be dismissed because the photos were never disseminated to the public.
"The county does not condone this showing of accident site photographs and has taken corrective personnel actions accordingly," the filing in the legal battle playing out in federal court argued.
"Plaintiff brought this lawsuit because she is concerned that photographs may be publicly disseminated. There is no legal basis for suing defendants for hypothetical harm," the paperwork said.
Vanessa filed her lawsuit last year, claiming "no fewer than eight sheriff's deputies at the crash site pulled out their personal cell phones and snapped photos of the dead children, parents and coaches" on Jan. 26, 2020.
The helicopter that had been chartered by the Lakers legend for a trip to a youth basketball tournament crashed into a hillside in Calabasas, California, amid dense fog, killing all nine people on board, including the Bryants' 13-year-old daughter Gianna.
Federal safety officials determined in February that pilot error that was likely exacerbated by "self-induced pressure" to please a celebrity client caused the tragedy.
The National Transportation Safety Board said pilot Ara Zobayan ignored his training when he intentionally flew into blinding clouds at high speed, allowing himself to become susceptible to spatial disorientation.
___
©2021 New York Daily News
McClatchy-Tribune News Service