Mo. firefighter pleads guilty to 3 counts of manslaughter, is sentenced to probation
Dominic Biscari has been on unpaid leave from the Kansas City Fire Department, which is seeking termination
---
By Katie Moore, Glenn E. Rice
The Kansas City Star
KANSAS CITY, Mo. — A Kansas City firefighter who pleaded guilty to three counts of involuntary manslaughter reached a plea agreement with prosecutors, allowing him to be sentenced to three years of probation.
Dominic Biscari, 22, was charged Tuesday in a 2021 crash that claimed the lives of three Kansas Citians.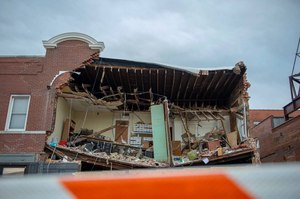 According to the Jackson County Prosecutor's Office, Biscari was placed on probation for three years. He is prohibited from carrying a firearm and must complete 40 hours of community service.
Judge Janette Rodecap approved the plea agreement during a court hearing Tuesday.
Biscari did not make a statement, but confirmed to Rodecap that there was enough evidence for him to be convicted at a trial. He waived his right to a preliminary hearing.
The fire department said he had been placed on unpaid leave and that they were seeking termination.
Biscari was driving a Kansas City Fire Department truck on Dec. 15, 2021 when it struck a Honda CRV at the intersection of Westport Road and Broadway Boulevard. The force of the crash propelled the vehicles northwest, causing them to hit a pedestrian before slamming into a building.
According to charging documents, Biscari was traveling at 51 mph in a 35 mph zone, against a red light, at the time of the crash
Jennifer San Nicolas and Michael Elwood, who were in the Honda, and Tami Knight, the pedestrian, were killed. San Nicolas and Elwood worked at the restaurant Ragazza and Knight was a Kansas City Public Schools employee.
"Though this plea will not restore their lives or heal their grief, it demonstrates a level of accountability for the actions of the firefighter who carried a public duty," Prosecutor Jean Peters Baker said. "We also hope this motivates further review of the best and the safest practices for operating public vehicles. Our community requires more care."
A three-page statement, sent by Biscari's attorney Kevin Regan, said Biscari had "expressed his regret, sorry, sympathy, and concern to the victims' families privately."
The statement said he "made a mistake in judgment," but also said defended Biscari by saying he had no prior criminal history or traffic violations, was not under the influence or texting at the time of the crash and cooperated with the police investigation.
"Other drivers in the area heard the fire truck sirens and pulled over to stop safely," the statement added.
It continued by placing blame on the city.
Biscari's attorneys said the city has the technology to install receivers at traffic light intersections that prompt the lights to change so emergency vehicles can get a green light. They also said the city has known for years that the Westport intersection is dangerous and that the department failed to provide adequate training on driving a pumper truck.
Additionally, Biscari's attorneys said he was not made aware of a prior complaint about his driving. In September 2021, a medic told supervisors that she feared for her life after being in an ambulance with Biscari while he sped.
"Dominic was never made aware of that report, or given a chance to give his side of the story," the statement said. "Moreover, prior to the accident, neither the City nor Fire Department conducted an investigation or undertook corrective or remedial actions."
Several lawsuits were filed in the aftermath of the crash and last month, Kansas City agreed to pay more than $1.3 million to the family members of the victims.
©2023 The Kansas City Star.
Visit kansascity.com.
Distributed by Tribune Content Agency, LLC.
McClatchy-Tribune News Service