$95M in backpay part of Chicago FFs' tentative contract deal
The deal, which still needs to be ratified by union members and approved by the City Council, includes raises covering July 2017 through June 2021
---
Gregory Pratt
Chicago Tribune
Mayor Lori Lightfoot has reached a tentative agreement with Chicago firefighters on a union contract that includes $95 million in back pay, her administration said.
The deal, which still needs to be ratified by union members and approved by the City Council, includes raises covering the period from July 2017 through June 2021.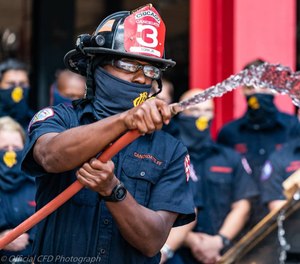 Lightfoot officials said the contract will save the city about $7 million per year through a number of measures, including requiring active firefighters to pay 1.5% more of their salaries toward health care. The city also is requiring retirees to pay more of their retirement annuity toward their health care benefits.
City officials wanted to get the deal done this fiscal year to take the $95 million hit now instead of stretching it out into next year's budget, Lightfoot sources said.
The short-term agreement expires next summer, however, and the city will again need to negotiate with the firefighters for a longer deal.
Lightfoot's contract with the firefighters is roughly the same as what police supervisors received: 2.25% raises in 2018 and 2019 and a 2% raise in 2020. For 2021, however, police supervisors agreed to a deal with a 2% raise while firefighters got 2.5%, which means the city will kick an extra .5% to the supervisors because they have a clause that matches what the firefighters get.
But for now, the agreement would mean Chicago only has one major labor contract outstanding — its deal with the Fraternal Order of Police, which is sure to be thornier due to the troubled relationship between Lightfoot and its leader and tougher problems around officer accountability.
City officials said they hope the financial terms are a framework for the FOP deal.
"The men and women of the Chicago Fire Department have been on the front lines of a crisis that is entirely without precedent in our city," Lightfoot's office said in a statement. "And while Chicago is experiencing significant financial impact due to the unprecedented COVID-19 outbreak, we are proud to announce that we have reached a short-term agreement with the Chicago Firefighters Union Local 2 to ensure that our first responders receive the fair wages and benefits they deserve while still being judicious with taxpayer resources."
Lightfoot received a big boost from the firefighters union in the 2019 campaign when they endorsed her candidacy early in the runoff.
A call to the union was not immediately returned.
———
©2020 the Chicago Tribune
McClatchy-Tribune News Service