Firefighter-paramedic pushing for tougher distracted driving laws
In 2013, a distracted driver killed Christina Dempsey's sister, niece and the daughter of her sister's fiancé
---
By Cathy Dyson
The Free Lance-Star
FREDERICKSBURG, Va. — Christina Dempsey is petitioning the General Assembly to make Virginia drivers put down the phone, marking the fourth year the Fredericksburg woman has taken her cause to Richmond to reduce distracted driving.
"I really want to see this law go through," said Dempsey, 37, a paramedic and firefighter at Marine Corps Base Quantico. "It may help prevent other families from going through what my family has and continues to go through."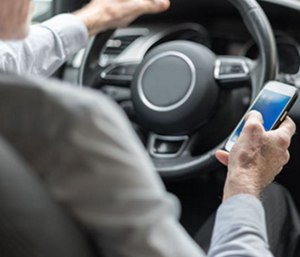 On Aug. 27, 2013, a truck driver who took his eyes off the road to check directions slammed into the back of a car in Millersville, Md. The crash killed three people Dempsey loved: her sister, Bethany Dempsey; her sister's 14-year-old daughter, Lauren White; and the daughter of her sister's fiancé, 8-year-old Abigail Cullen.
After the accident, Christina Dempsey "immersed herself in the fight to end distracted driving," said Janet Brooking, executive director of Drive Smart Virginia. That's a nonprofit organization led by safety advocates and representatives from insurance agencies and law enforcement.
Drive Smart has taken on the issue of distracted driving since 2006. As part of its campaigns, Dempsey shares her story during Drive Smart events at workplaces, with NASCAR fans at the Richmond Raceway or high school students taking driver's education classes or getting ready for the prom.
"Whether they be teens or adults, many people are moved to tears by Christina's message," Brooking said. "It's a sober reminder that car crashes happen in a split second, and they can happen to anyone."
Fifteen states, along with Washington, D.C., Puerto Rico, Guam and the U.S. Virgin Islands, prohibit all drivers from using hand-held cellphones behind the wheel, according to the Governors Highway Safety Association.
Virginia does not have an all-out ban. It's one of 47 states that prohibits drivers of all ages from text messaging.
Also, Virginia does not allow school bus drivers or drivers under 18 to use a hand-held cellphone while driving.
Fines for violating Virginia's laws regarding cellphone usage are $125 for the first offense and $250 for second and subsequent ones.
Drive Smart is looking to strengthen the distracted driving law and has an online petition, in which it asks the General Assembly to "make Virginia drivers put down the phone." The goal is 1,500 signatures, and as of Tuesday, more than 1,000 people had signed it.
The online address for the petition is change.org/p/virginia-general-assembly-make-virginia-drivers-put-down-the-phone.
Brooking said there are eight distracted driving bills for state legislators to consider this session "which is a hopeful indicator that . . . the time has come for an updated law." The current bill was passed in 2009 and does not address smartphone technology and the numerous apps in place today, she said.
Even if the distracted driving law passes in this General Assembly session, Dempsey will continue with her campaign and a Facebook effort called 3 Ribbons for 3 Reasons. The daughter of King George Sheriff Steve Dempsey has made thousands of memorial ribbons featuring green, purple and animal stripes—colors and a pattern favored by the three females she lost in August 2013.
"I hand them out just as quickly as I make them," she said.
Copyright 2018 The Free Lance-Star