Neb. fire officials struggle to find funds to ease paramedic burnout
Lincoln Fire and Rescue seeks to add an eighth medic unit to address overwhelming call volumes
---
Riley Johnson
Lincoln Journal Star, Neb.
LINCOLN, Neb. — Despite putting a seventh city ambulance in service in mid-2018, Lincoln Fire and Rescue's paramedics remain swamped responding to emergency medical calls in the growing city, retiring Fire Chief Micheal Despain said.
Call volumes in Lincoln continue climbing at three times the rate of population growth, mainly because of the medical needs of the city's aging population, Despain said.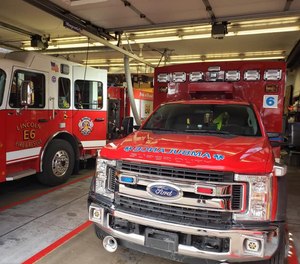 Medical calls comprise about three-quarters of the nearly 27,000 incidents fire and rescue crews respond to each year, according to department statistics.
"That is a trend that is going to continue on, and it's a little scary," Despain said in an interview last week.
Despain, who was appointed fire chief in 2016 after 32 years in fire service in California, will retire at the end of the month and sees staffing challenges as one of the continuing pressures on the department in the coming years.
Hiring efforts in the department focus on finding paramedics, in part, because of the turnover from burnout among the positions, he said.
Lincoln Fire Fighters Association President Adam Schrunk agrees burnout is a concern.
An ambulance responds to more than 3,200 calls a year, or about nine per day, according to the department's latest annual report.
Some Lincoln paramedics have worked 20 calls in a day, with a typical call lasting about an hour, Schrunk said.
The workload — mentally and physically — taxes paramedics, Despain said.
Privately, some paramedics have told Schrunk they're using sick leave, not because they're physically ill, but because they need extra time to mentally recuperate from prior shifts, he said.
Adding an eighth medic unit could ease the strain on the city's paramedics, but funding for that has political problems, fire officials said.
Fees paid for ambulance transportation in Lincoln have solely funded the city's ambulance service since the fire department took it over in 2001, according to the department.
Since the controversial takeover of a previously private service, Lincoln Fire and Rescue has used its so-called "enterprise fund" to staff the exact number of ambulances it can support to keep the ambulance aspect of the department in the black, Schrunk said.
For many years, the federal government's reimbursement rate for Medicaid patients taken via ambulance was low, Despain said, about 30% of the actual cost.
This meant Lincoln often raised its rate and cost-shifted so privately insured patients paid the difference, he said.
The federal government has increased its Medicaid reimbursement rate to about 70%, but only if the state agrees to do so, the chief said.
And in Nebraska, the state Department of Health and Human Services has not changed its Medicaid reimbursement.
Last year, Sen. Mike McDonnell of Omaha proposed a bill (LB645) to direct HHS to make the change.
Department officials last year estimated the upfront expense of implementing it at $23 million, though they acknowledged 90% of the costs could be reimbursed by the federal government, according to legislative testimony.
The bill was carried over to this year's legislative session. A hearing has not been scheduled.
Adopting the federal reimbursement rates in Nebraska would provide Lincoln enough funding to staff an eighth ambulance and give the department leeway to seek an overall rate reduction, Despain said.
The department could seek a larger appropriation of general funds from the city, but some in the community who opposed city-run ambulance service would argue that the takeover failed, Schrunk said.
As best as Despain can tell, Lincoln is among the only fire departments in the country operating their ambulance service using only the ambulance fee revenue, he said.
"That's a rule of engagement, specific to Lincoln, maybe other agencies wouldn't have, but those are the issues that we deal with," Despain said.
Schrunk said he's just focused on getting city paramedics relief.
"If we don't keep adding and doing things, then we're going to have more people leave, more people with mental health issues, more people with injuries," Schrunk said.
———
©2020 Lincoln Journal Star, Neb.
McClatchy-Tribune News Service