Top federal issues facing the fire service
The challenges and opportunities presented by the new government require firefighters engage with their elected officials
---
The Congressional Fire Service is holding its 29th annual dinner and symposium April 5-6. Visit CFSI to learn more and register for the events.
The first two months of 2017 have certainly been interesting in our nation's capital. While there is always some confusion and upheaval at the start of a new Congress, especially when a new administration is moving into the White House, rarely has there been a transition like the one currently underway.
But a new Congress and administration also brings new opportunities, and the fire service must take advantage of those.
The 115th Congress welcomed 55 new members to the House of Representatives and seven members to the Senate. On the other side of Pennsylvania Ave., the Trump administration is in the process of filling key administration positions.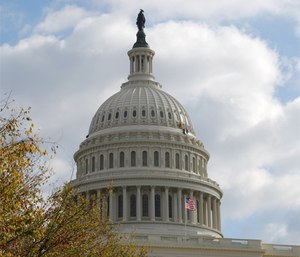 We do not know their levels of experience and knowledge of our issues. But we do know that every member of Congress and certain administration officials will be making important decision that will impact federal fire service programs in the coming years.
This is why the fire service must be engaged in the political process.
At the start of each congressional session, the Congressional Fire Services Institute encourages new members of Congress to join the Congressional Fire Services Caucus — and for that matter, veteran members who have yet to join.
Today, the fire caucus is among the largest in Congress. It is not about ideology, but rather recognizing and supporting our nation's first responders. It unites members of Congress to raise the level of awareness on Capitol Hill about the critical mission first responders fulfill to protect local communities.
The fire caucus helps members understand how certain pieces of legislation can advance the readiness and response capabilities of our nation's first responders to all hazards.
Every member of the fire service who understands the importance of federal support for the fire service should reach out to their members of Congress and urge them to become active members of the fire caucus. Congress will consider several critical issues in 2017, and only by becoming engaged with your members of Congress will the fire service agenda move forward successfully.
Cancer and grants
One important piece of legislation Congress will be considering is H.R. 931, the Firefighter Cancer Registry Act. Introduced on Feb. 7 by Reps. Chris Collins, R-N.Y. and Bill Pascrell, Jr., D-N.J, the bill would establish a specialized national cancer registry to be managed by the Centers for Disease Control and Prevention.
The registry would improve collection infrastructure and activities related to the nationwide monitoring of cancer incidence among firefighters. Identical legislation, S. 382, was introduced by Sen. Robert Menendez (D-N.J.) on Feb. 15.
Studies have indicated a strong link between firefighting and an increased risk for several major cancers, including colon, lung, melanoma, mesothelioma, non-Hodgkin's lymphoma, non-melanoma skin cancer, prostate, rectal, testicular, stomach, multiple myeloma and brain cancer. The heightened risk of cancer among firefighters has been attributed to their frequent exposure to a range of harmful toxins.
Studies examining cancer risks among firefighters have been limited by the availability of important data and relatively small sample sizes that have underrepresented women, minorities and volunteer firefighters.
As a result, public health researchers have been unable to fully examine and understand the broader epidemiological cancer trends among firefighters. A specialized national cancer registry would expand access to vital epidemiological data and improve research outcomes.
Since 2001, thousands of fire departments across the nation have received over $10 billion in federal grants through the Assistance to Firefighters and Staffing for Adequate Fire and Emergency Response grant programs. We have all seen how these two grant programs have benefited our nation's fire service.
Unless we can convince Congress to reauthorize both programs by the end of this year, they will disappear, as will any future AFG and SAFER grants. It is absolutely critical that Congress reauthorize these programs in the first session of the 115th Congress.
The AFG and SAFER grant programs are imperative to addressing the needs of more than 1 million fire and emergency services personnel, while providing an economic stimulus to American businesses.
Congress created these grant programs to address the baseline needs of our nation's fire and emergency services to respond to over 30 million emergency calls annually and to continue to reduce community risk.
Tax code overhaul
Every community across the country relies on our firefighters to respond to a variety of emergency situations, including structure fires, emergency medical services, hazardous materials response, technical rescue and wildland/urban interface fires.
Both the AFG and SAFER grant programs improve the response capabilities in each of these emergency response areas, and provide funding for crucial fire prevention and safety programs targeted toward high-risk populations.
Congress is also expected to undertake tax reform legislation at some point in 2017. While details are still scarce, Congress and the White House have both expressed a desire to make changes to the current tax code.
Tax reform will present some unique opportunities for the fire service. Legislation to create tax incentives for the retrofit of automatic sprinkler systems in commercial buildings will be under consideration for inclusion in tax reform proposals. Additionally, a rewrite of the current tax code could address incentives for the recruitment and retention of volunteer firefighters.
Citizen engagement is a bedrock principle of our republic — it is that special right given to each one of us.
We should never take it for granted and exercise it whenever we feel strongly about something — such as preserving the AFG and SAFER grant programs, establishing a national cancer registry for the fire service, retrofitting buildings with fire sprinklers, addressing volunteer recruitment and retention among volunteer, and many other important issues that will be addressed in Washington this year.
Fire service representatives must engage their members of Congress at the grassroots level. Every member of Congress has a firehouse in their district. Every member of Congress has firefighters who vote in their district.
If the fire service is willing to make itself heard, it can be a powerful force on Capitol Hill in the coming year.
CFSI Director of Government Affairs Sean Carroll contributed to this report.