Wash. fire chief asks city council for supplemental funding to begin hiring members
Vancouver voters approved Proposition 2, a tax hike to improve fire services, but the department cannot tap into levy funds until 2023
---
Lauren Ellenbecker
The Columbian, Vancouver, Wash.
VANCOUVER, Wash. — Three weeks after Vancouver voters approved Proposition 2, a tax hike to improve fire services, Vancouver Fire Chief Brennan Blue is asking the Vancouver City Council for supplemental funding to begin implementing changes promised to voters.
During the meeting Monday, Blue said his department cannot tap into levy funds — expected to be $15 million a year — until 2023, and the city's budget doesn't have the capacity to begin hiring its fire captains, medics, firefighters and support staff.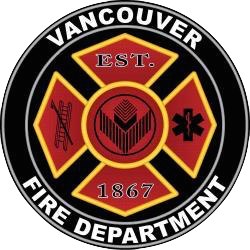 To resolve this, Blue said, the city could amend its supplemental budget to include the first phase of hiring. He did not specify the amount needed to support these efforts.
"We want to make sure we are transparent and proactive in sharing out how (the resources) are being used and the results they are delivering," City Manager Eric Holmes said.
Vancouver's "pay as you go" approach will unfold over the next decade, with every penny of Proposition 2 revenue going toward fire and emergency funds. The investments are intended to help improve emergency response times to priority calls within Vancouver's set standard of 7 minutes and 59 seconds. In 2020, the average response time was 8 minutes and 23 seconds.
Each group of incoming firefighters is required to participate in a fire academy. This training will likely be the slowest part of the process, Blue said, as the fire department's training division will be busy for the next two years. It will also put a strain on training and suppression staff who are expected to operate the academies.
"Getting personnel onboard (is) the primary component. The apparatus and stations don't matter if you don't have people to respond," Holmes said.
The additional resources would address necessary call concurrency improvements, coverage expansion, fire response flexibility, the construction of Stations 3 and 6, and the retrofitting of Stations 4, 5 and 8. Additional funds contribute to administrative costs and operation maintenance.
Department staff are designing the framework for squads and stations in 2022 and anticipate the opening of Station 11 in the fall, according to preliminary plans. Dates for further fire station construction projects are subject to change based on revenue status, land acquisition, supply chain issues and general economic challenges, Holmes said.
Blue told the council on Monday that the plan reflects the city's climate action goals, specifically in meeting carbon emission standards, but this may impact cost components of facilities as they begin construction.
There is also an internal effort to add diversity, equity and inclusion in the recruitment process to fulfill departmental and city goals. Blue suggested reducing application and testing fees for candidates — which can be hundreds of dollars — by including them in the fire department's base budget. This model replicates what some larger fire departments do and would remove a financial obstacle for applicants.
"If we can make (the process) cost-neutral for the candidates, we think we could pull in a better pool of folks from a variety of different walks of life," Blue said.
___
(c)2022 The Columbian (Vancouver, Wash.)
McClatchy-Tribune News Service