Retired fire chief dies in wildfire-related plane crash in Ariz.
Former Northwest Fire Chief Jeff Piechura and the plane's pilot were surveying the Cedar Basin Fire
---
Jamie Donnelly
The Arizona Daily Star, Tucson
TUCSON, Ariz. — Former Northwest Fire Chief Jeff Piechura was confirmed as one of the two victims of an aircraft accident 14 miles east of Wikieup on Saturday afternoon, officials said.
According to a news release from the Bureau of Land Management Arizona, Piechura, 62, and the pilot, Matthew Miller, 48, were on board a Beechcraft King Air C90 aircraft conducting visual reconnaissance, aviation command and control over the Cedar Basin Fire when the accident happened.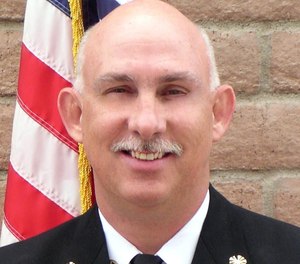 The lightning-caused fire started July 9 and has grown to 714 acres with no containment, the news release said. Their remains were recovered from the accident site, half a mile south of the fire area.
"Our hearts and most sincere condolences are with the families, friends and colleagues of both individuals lost in this tragic accident," said BLM Arizona State Director Raymond Suazo. "This reminds us of the inherent risks involved in wildland firefighting and the gratitude we owe to the courageous and committed men and women who serve willingly to protect lives, communities and natural resources."
Piechura spent 28 years at Northwest Fire, becoming the first fire chief in 1988. He retired in 2012 and continued his career with the Stockton Fire Department and Sedona Fire district before returning to Pima County, a news release from the Northwest Fire District said.
"Piechura's passing leaves a tremendous void in the lives of his beloved family, friends, and the thousands of firefighters across the country he worked with," said the Northwest Fire news release. "His professional accomplishments are far too many to be captured in a single document and his personal impact on those who knew him is too immense to comprehend. For those of us fortunate enough to work with Jeff, or 'Chief Pie,' we will forever miss his warm smile, firm handshake, and endearing embrace he gave those around him."
"Our thoughts and prayers are with Jeff's wife, Donna, and five children. We stand ready to serve his family during this difficult time just as Jeff stood ready to serve the families of so many during their time of need," the Northwest Fire news release said.
___
(c)2021 The Arizona Daily Star (Tucson, Ariz.)
McClatchy-Tribune News Service