Ore. county declares emergency over rural vaccine mandate concerns
Linn County officials unsuccessfully spoke with the governor about creating exemptions from the vaccine mandate or waivers for more aggressive testing for fire and EMS
---
Troy Shinn
Albany Democrat-Herald, Ore.
ALBANY, Ore. — The Linn County Board of Commissioners on Monday voted to declare a state of emergency over concerns the statewide vaccine mandate for medical first responders might cause a shortage of volunteers, particularly for rural fire outfits in the county.
The board meeting was moved to Monday from its typical Tuesday morning session because the vaccine mandate deadline was Monday morning.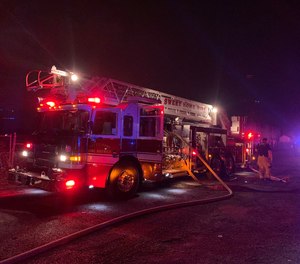 Commissioners said they took the step to "provide a framework" for getting additional state money or services to local agencies that may require them. A declaration of a state of emergency is needed to distribute many emergency funds and services.
"A lot of different organizations have expressed concern about their ability to deliver services with the reduction in workforce that many fear will occur starting tomorrow (or) starting today," Commissioner Roger Nyquist said at the board meeting. "There's a real question or concern about these local fire districts (ability) to protect their citizens and provide those services."
Firefighters, even volunteers, are trained to provide emergency medical care, which is why the statewide vaccine mandate for health care workers applies to fire agencies.
The county has been in talks with the governor's office, Nyquist said, throughout the past six weeks trying to hash out details regarding exemptions from the vaccine mandate or waivers for more aggressive testing for fire and emergency medical service responders. He said those efforts have been unsuccessful.
Commissioner Will Tucker, who lived for many years on a ranch in Scio, said he knows firsthand how rural fire agencies typically rely on a small team of volunteers to provide adequate fire and medical responses.
"I'm just concerned about the ability to come out and see if local fire stations can provide the coverage we need," he said. "We need those people from the state EMS to be out in the community for this to work."
Mid-Valley Media contacted several local rural fire agencies in Linn County for comment. While none of those who returned calls expressed fears over a lack of staffing crippling their ability to respond to calls, local fire chiefs say the vaccine mandate did make their jobs more difficult in recent weeks. Some volunteers did refuse or wait to get vaccinated until the deadline.
The Sweet Home Fire District has had one volunteer take a leave of absence because he was opposed to the vaccine mandate. The individual was fully vaccinated, according to Fire Chief Dave Barringer, but still opposed the mandate.
"I would say we were able to get through the process," Barringer said. "I'm not going to say the process wasn't painful. It was. There were a lot of discussions in my office."
Barringer said he doesn't downplay the danger COVID-19 poses to the public and why first responders responding to health calls need to be coronavirus-free, but he added the mandates cost his agency a lot of time to meet the deadline.
"It's taken a lot of toll on time and energy that should have been spent on providing help to the public," he said.
Bottom line, however, is that the vaccine requirement did not result in a considerable loss of staff, Barringer said, and should not impact the agency's ability to respond to emergency calls.
The Tangent Rural Fire District similarly had only a small number of volunteers who were outright opposed to the mandate.
"At this point we've seen no drop in our numbers," interim Fire Chief Cary Vonasek said, "but we're a small operation too."
He said one person left the organization, though that was because of other factors, not the mandate. Another volunteer was "dragging their feet" but has begun the process of being vaccinated. Vonasek said the individual would be fully vaccinated by now but an unrelated health issue postponed the date of the second vaccine dose.
The resolution declaring a state of emergency passed unanimously on Monday, although commissioners weren't happy with the way the vaccine mandate came down from Salem.
"I'm extraordinarily frustrated," said Commissioner Sherrie Sprenger, who was teleconferencing in on the proceedings from a leadership training session Monday morning. "Most people in rural areas ... kind of feel left out in the dark. We have a mandate that doesn't take into consideration any alternative for us to keep our emergency services."
___
(c)2021 Albany Democrat-Herald
McClatchy-Tribune News Service