'I'm about to die up here': N.Y. firefighter recalls mayday incident that led to lawsuit
Buffalo Firefighter Eric Whitehead cited his radio, being left alone in the attic and his "acting up" status as factors that led to his distress during the incident
---
Patrick Lakamp
The Buffalo News, N.Y.
BUFFALO, N.Y. — Three years in as a Buffalo firefighter, Eric Whitehead was the acting lieutenant for Engine 21 when dispatched to the Hamlin Park attic fire that would change his life.
He had worked above his rank about 20 times before under a Fire Department practice called "acting up." But Jan. 10, 2019, would be the first time he led his fire engine's crew into a burning house as acting lieutenant.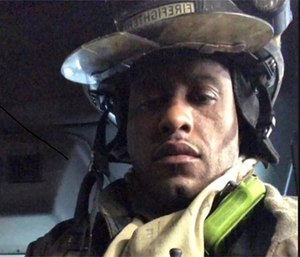 It went terribly wrong for him.
The firefighter, then 33, found himself alone in a burning and pitch-black attic, on his belly with a few remaining breaths of air left in his tank, and struggling to activate a mayday radio distress call. So he took off his gloves to press his radio's man-down button, resulting in third- and fourth-degree burns to his hands that charred his skin, damaged tissue and ended his firefighting career.
"I took my glove off to try to hit the man-down button, because I couldn't get it with the gloves that I had," Whitehead said in a court deposition. "I felt like this was my last chance. I felt like if I didn't do that, I would have died.
The factors that Whitehead's lawyer said contributed to the firefighter's distress — the radio, being left alone in the attic and his "acting up" status — were key parts in Whitehead's lawsuit against the city.
The Fire Department contended no other firefighter has ever complained about the man-down button and that Whitehead's radio wasn't turned on. What's more, he should not have crawled up to the attic by himself, Fire Commissioner William Renaldo said in an affidavit.
After nine surgeries and with a trial looming, Whitehead settled his lawsuit earlier this month. Pending Common Council approval, the city will pay $2.3 million for his pain and suffering and pay him his salary and benefits until his retirement age.
"He's not angry or placing blame on anybody," said attorney Charles S. Desmond II, who represents Whitehead. "He was only in his third year, and this was one of the first major attic fires he was ever in. That's why working out of class was significant. They had him working as an acting lieutenant when he was just a regular fireman. He had no training whatsoever to be a lieutenant."
'I know I'm in trouble'
Whitehead recalled the fire at 82 Butler Ave. as "the first fire I'd been in where it's so hot you don't see no fire," according to his court deposition.
When Engine 21 arrived, Whitehead and another firefighter approached the house and heard from a resident that her son was still in the attic. It turned out the son had evacuated the house.
The firefighters went straight upstairs because Whitehead said his first task as acting lieutenant was to find the fire.
Buffalo's fire engine companies work in four-person crews: driver, hook-up, officer and attack. The firefighters in the attack and officer assignments hold the primary roles in battling an interior structure fire. The attack position handles the nozzle of the hose line and the officer, in close proximity, provides assistance. The hook-up firefighter makes sure the hose doesn't kink or get stuck anywhere.
Rescue Company 1 firefighters were behind him, Whitehead said, so he counted seven firefighters in or near the attic stairwell.
Whitehead used a thermal imaging camera to find the fire. When the camera senses heat patterns, it lights up red.
"I just remember the stairs leading up to this darkness," Whitehead said, recalling the smoke.
Behind the firefighter spraying water, Whitehead pointed the camera up the stairwell but didn't get any readings. So he told the firefighter to move up a couple of steps.
"He said he couldn't get any higher, like he was fighting to go up the stairs," Whitehead said. "I'm like, you got to go up more. He said, 'I can't, it's too hot.' "
The attack firefighter stepped up but then his oxygen tank ran out of air.
"And I let him down past me, and I take the nozzle, and I got the thermal imaging camera, so both my hands are occupied now," Whitehead said.
Whitehead turned off the hose.
"Now I'm crawling to the top of the landing of the attic," he said, holding the thermal imaging camera and the inch and three-quarter hose. "And I take the TIC, and I point it to the right. It was black, pitch black. As soon as I get to the left, the whole screen turned red.
"I couldn't see anything," Whitehead said. "I attempted to crawl, but it was so hot."
"The last time I knew (anyone) was behind me was my Rescue brothers," he said. "But it's not like I keep checking behind me to see what's going on. I'm trying to get to the fire."
Whitehead began spraying water.
"I see red in the camera," he said. "So when I don't see flames, I know the fire is in the wall, the ceiling or the floor."
Once Whitehead reached the top of the stairs, he moved maybe 5 feet, he said.
"I was rolling back and forth, hitting the ceiling and the wall (with water), looking at the camera. Then something hit me. When that happened, knocked my helmet off, knocked the hose right out my hand, dropped the camera."
He patted around the floor looking for his helmet but still had his breathing apparatus mask on. He found his helmet within 10 to 15 seconds.
"I know I'm in trouble because now I don't have the line," but he thought he had "five guys behind me. I assumed they were close by."
So he looked for the hose line, calling out for help and saying he was low on air.
But he heard no response.
The mayday button
Whitehead had two man-down buttons, one on his harness, one on his radio.
"I just lost my whole sense of where I was at after I got hit," he said. "So I went to key the mic to radio I need help.
"You know, it's not as easy as it sounds, like just hit the button. I've got all this type of gear. I've got buttons and belts, stuff everywhere," he said.
He found the button on his harness, but "when I was trying to activate the button, I couldn't. It wouldn't activate."
So he grabbed for his radio.
"I couldn't get to the button," he said.
He was using the department's older model radio, which he used in training but never before at a working fire.
"That man-down button is very difficult to get to," he said.
"The model I had, the button was like set back behind the antenna. It would be difficult to hit it without a glove on at all."
So Whitehead took off his gloves to push the button, and suffered steam burns to his hands.
"I remember just being exhausted," he said in the deposition. "I said to myself 'I'm gonna die' three times in my head. I'm about to die up here.
As he lay on his stomach in the pitch black, he felt a splash of water on his fire coat. And then somebody tapped his left leg.
A Rescue 1 firefighter called mayday and Whitehead was pulled out.
"Felt like a hand from God snatched me out," he said.
Fire Department view of incident
The state Public Employee Safety and Health Bureau cited the Fire Department, saying firefighter accountability was compromised because firefighters did not remain in visual or voice contact with one another.
But Renaldo, the fire commissioner, disagreed in a court affidavit that the department violated the "two-in, two-out" rule at the fire.
The rule applies to structures, not attics or stairways, and requires that when firefighters respond to a call, they must enter the structures in teams of two, and for each entering pair of firefighters, two additional firefighters remain outside, prepared to enter the building, he said. There were enough firefighters inside and outside the house to comply with the rule, he said.
When the firefighter in the "attack" role left Whitehead, "it was incumbent on firefighter Whitehead, as both a member of Engine 21 and the acting officer, to accompany" him and ensure his safe exit, Renaldo said.
The firefighter in the "attack" position suffered burns to his face, head and torso, along with post-traumatic stress disorder.
"Without admitting that any violation occurred ... it relates entirely and exclusively from firefighter Whitehead's decision to stay after (the other) firefighter exited the attic," Renaldo said.
As for the radio Whitehead used, that model has been used since at least 2012, the commissioner said, adding he had never received a complaint about them.
"I am not aware of the Fire Department ever having an incident where a firefighter claimed to not be able to activate their man-down button due to wet gloves, he said in his affidavit.
At a deposition a year ago, James Hynes, a battalion chief for the department, was asked by Whitehead's lawyer if any firefighters had complained about accessing the mayday button because of the size of their gloves.
"Not complain, but they did say it was difficult, yes," Hynes replied.
Over time, the department has replaced the older model radios, but that doesn't mean his radio was unsafe or unfit for use, Renaldo said.
During a gear inspection after the fire, Whitehead's radio was found to be in the off position. When turned on, the radio was tested and it functioned properly, Renaldo said.
Radio dispatch records showed no communications from Whitehead's radio during the fire.
"It is our belief that firefighter Whitehead did not actually have his radio on at the time of this incident and, therefore, the man-down button was not able to be activated regardless of how many times the button was or was not pressed," Renaldo said.
Put in charge
Whitehead's lawsuit asserted state law does not allow city firefighters to work out of title except in emergencies.
There was no emergency on Jan. 10, 2019, said Desmond, Whitehead's lawyer. Whitehead and another Engine 21 firefighter had been alternating as acting lieutenant for months when their actual lieutenant was in training, Desmond said in court papers.
Desmond filed an affidavit from Michael S. Lombardo, the Buffalo fire commissioner from 2006 to 2010, who said Whitehead was not qualified to serve as a lieutenant for Engine 21.
Lombardo said he reviewed photographs, reports, firefighter depositions and other department records.
"Whitehead, an inexperienced firefighter with an inexperienced crew that was unfamiliar with one another, did not have the experience, training, skills or knowledge necessary to safely lead his crew," Lombardo said.
"It costs the city a lot of money if they don't have people like Whitehead acting out of title," Desmond said. "They'd have to pull in a lieutenant who was off that day and pay overtime, which we determined would cost anywhere between $1,000 and $2,000 more per day. So it's a huge cost savings for the city."
Renaldo defended firefighters "acting up" as lieutenants, a practice in place when he started as a Buffalo firefighter in 1982.
A firefighter must have three years of experience to be acting lieutenant, and the chain of command must feel the firefighter is ready for the responsibilities, Renaldo said at his deposition. Firefighters are not forced to assume the role.
The practice lets firefighters get experience in a rank to which they may eventually seek a promotion. Also, he said, an officer from a different firehouse called in to replace a lieutenant may not be as familiar with firefighting plans for hospitals, hotels, apartments and manufacturing facilities in the district, he said.
"Firefighters permanently assigned and who regularly act up to the rank of lieutenant are in most cases more well versed, more familiar with and more uniquely qualified to serve as acting officers in their permanent assigned district," Renaldo said.
___
(c)2022 The Buffalo News (Buffalo, N.Y.)
McClatchy-Tribune News Service