Officials: 2 Detroit FFs resign after on-duty intoxication, crashes
The department launched an audit in March following the back-to-back drunk driving incidents
---
By Laura French
DETROIT — Detroit officials say two firefighters involved in drunk driving incidents while on duty earlier this year have resigned. 
A firefighter who struck a parked car in an engine while responding to a medical call in late February and a captain who crashed a department SUV while responding to a call about a week later have both left the department, according to FOX 2 Detroit.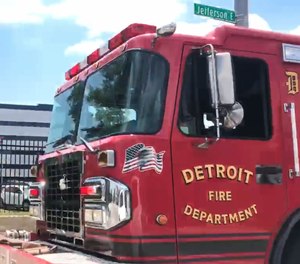 Officials said the firefighter in the first incident blew a BAC of .108 after the crash. The captain involved in the second crash reportedly had a blood-alcohol level above the legal limit and was arrested on the day of the incident, the Detroit Free Press previously reported. FOX 2 Detroit reports that both firefighters are not facing additional charges after resigning. 
The back-to-back incidents led the Detroit Fire Department to launch an independent environmental audit and review of the department's policies and employee assistance program. 
"I'm profoundly disappointed over the incidents that have occurred in the past week. This is not reflective of the Detroit Fire Department as whole. But we must address it," Fire Commissioner Eric Jones said in a statement in early March, according to the Detroit Free Press.