Md. county fire department spokesman retires after 26 years
Mark Brady retired last week after more than a quarter-century as the face of Prince George's County's fire department
---
By FireRescue1 Staff
PRINCE GEORGE'S COUNTY, Md. — The longtime spokesman of one of the nation's largest fire departments retired last week after 26 years.
Retired Prince George's County Fire Department Spokesman Mark Brady, 62, worked his last day at the department on Tuesday, Dec. 31, after a total of 44 years working in the fire service, according to The Washington Post.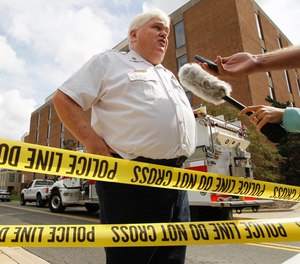 "After I joined the fire service, it was in my blood," Brady told the Post.
Brady first joined the Branchville Volunteer Fire Company in 1975 before becoming a switchboard operator for Prince George's County, and then a dispatcher for the county's fire department.
In 1994, he applied to become a county public information officer, at the urging of his friend and co-worker Pete Piringer. Piringer said Brady's experience as a volunteer firefighter and dispatcher in the county gave him the perspective and knowledge needed for the role.
Brady ultimately rose through the ranks to become chief communications officer for the department, handling as many as 150,000 calls each year.
Over the years, technology evolved from numeric pagers and faxing of news releases to newsrooms to the use of smart mobile devices and social media.
"A PIO can save hundreds, if not thousands, of people with smoke alarms and having a safety plan," Brady said. "It's amazing how many people follow us on Twitter, on Facebook."
After his retirement, Brady said he wants to focus on spending time with his first grandchild, Mackenzie. He will also continue to serve as an instructor for the Federal Emergency Management Agency's National Emergency Training Center.
[Read more from Mark Brady: Strategies for effective press briefings during critical incidents]