NFPA standards reorg: Evaluating the reasoning and potential problems ahead
Questioning the process involved in the reorganization as well as some of the standard grouping choices
---
The NFPA, which writes most of the standards that the fire service uses, recently announced its intention to reorganize the entire suite of 114 standards that cover a variety of topics, ranging from professional qualifications to training to occupational safety and health to PPE. This reorganization is already underway but is slated to begin taking effect in early 2020 when NFPA consolidates the first groups of standards. This reorganization is likely to have significant implications for the fire service and the first responders who rely on NFPA standards.
Understanding NFPA's organization reasoning
NFPA's reorganization of fire service standards is primarily an effort to consolidate the number of standards to result in approximately one-quarter to one-third of the current number. The reasoning is that a consolidation will make the standards more accessible to end-users. The NFPA is also moving toward setting specific "committee weeks" where active fire service committees will meet at the same location and timeframe to carry out their principal standards work. That latter change is purportedly to allow more interaction among different committees that may be working on related topics of standards development. For the time being, the existing committee structure will remain intact, but NFPA's vision is that some standards will now be overseen by multiple committees, similar to how it handles its behemoth NFPA 70: National Electric Code.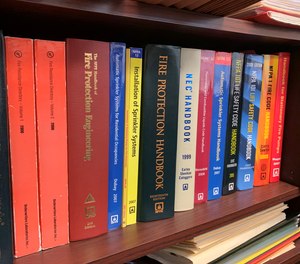 NFPA representatives emphasize that this process is in response to what its volunteers and fire service members have been requesting for years – streamlining the standards development process, making the standards more accessible, and providing for collaboration among a wide range of different standards where coordination is needed to improve consistency among the fire service standards. When asked if the decision to reorganize was resource-driven, based on limitations in staffing or other monetary considerations, NFPA representatives have informally indicated that this is not the case.
Examining the approach objectively, one can see some merits potentially achieved in a consolidation of standards and marked by a more "standardized" meeting process. The number of NFPA standards that affect firefighters and first responders has been growing. There has been a steady increase in the number of standards being created, which in turn must be maintained and updated. For example, a fire department wanting to address professional qualifications can potentially look at over 20 different standards. Certainly, some consolidation could provide a single source for requirements, eliminate redundant information, and potentially provide consistency among the different requirements of related standards. But do fire service members really want to have to sift through a book with a set of consolidated standards that could be nearly 1,000 pages long?
Similarly, the facilitation of set dates and locations for committees to meet – essentially the same couple of weeks each year – aids in planning for both the participants and the NFPA. Presumably, larger groups should mean discounted hotel rates and better services at those meetings. This approach would seem to work well unless you happen to participate in multiple committees and now you have to make a decision on which meeting to attend since they now overlap. Of the over 800-plus members on fire service committees, NFPA indicates that overlapping meeting demands will only affect 52 members. This seems to be only a small number, but we would guess probably an underrepresented number. One a protective clothing and equipment standard alone, there are at least half that number of individuals who participate on multiple committees.
Next, there is the potential benefit of collaboration. It has been known to occur that conflicts arise between different standards. An equipment standard might state one requirement, while the occupational safety and health committee members indicate the same requirement differently, and training yet some other way.
In the past, it has been up to the individual committees to work out these conflicts. The new system is supposed to encourage collaboration among committees, or at least where similar standards are grouped together on the same cycle.
The reality is that over the past several years, the fire service has been requesting some sort of advisory group that could oversee and help make decisions on standards strategy, but apparently this is not the NFPA way. Or at least, the NFPA has indicated that its Standards Council arbitrates those decisions, though it has been our personal experience that such mediation only takes place once the problem occurs – never on a proactive basis to ensure correct direction at the beginning of the process.
Potential problems and confusion with NFPA standards reorganization
Every organization should examine how it does business and find ways to streamline their processes. And anyone who has been part of any medium to large organization further realizes that this is the natural order of how organizations work. Not all reorganizations work out well, and there is always resistance to change, but change is inevitable.
Yet in this case, our complaint isn't the fact that NFPA is reorganizing but how the NFPA has gone about this reorganization. We realize that the NFPA has it within its power to change the process whenever it wants. But doesn't it make a huge difference when you involve the people who actually donate their time to the process – the 800-plus volunteers of the 57 different committees that contribute to the 114 different NFPA standards?
NFPA may claim they there was a groundswell of support, but for all of the forums in which we participate and those of our associates (granted this being mainly in PPE), we were never made aware of these big changes. Instead, we were told how the standards would be consolidated and how the meetings would be run and are now expected to follow suit.
Some of the proposed consolidations make sense, or at least appear to make sense, but for others, we wonder what the NFPA was thinking.
In PPE, for example, the NFPA has proposed to consolidate three hazmat PPE standards (NFPA 1991, 1992 and 1994) and one EMS PPE standard (NFPA 1999) into one standard. The committee responsible for the hazmat standards at least was already preparing to make this change, and it was hope that we would be able fix some of the problems for managing three separate standards by being able to apply a higher level of consistency. Lumping EMS with hazmat might be questionable but could work, as there are some similarities but also big differences. So this consolidation could work, but parts of it might create confusion.
Even more confusing is the NFPA decision to put wildland respirators (NFPA 1984) in with turnout clothing (NFPA 1971), SCBA (NFPA 1981), station/work uniforms (NFPA 1975) and SCBA air quality testing (NFPA 1989). Or as another example, water rescue (NFPA 1952) and contaminated diving gear (NFPA 1953) being combined with wildland firefighting gear (NFPA 1977).
We in the PPE community are scratching our heads to figure out why such associations of the standards should be made.
We are told that NFPA wants to make it easier for end-users to obtain standards. But again, we ask the question: Do firefighters and other end-users really want larger bigger books?
NFPA already has a great system of offering its standards online, which in these days of electronic media, is the way to go. Anyone can look up any NFPA standard on the NFPA website and see the entire current or past editions of standard. Electronic versions or hard copy version of the standards are available at reasonable prices – generally around $50 per standard.
We are unsure what benefits to the fire service occur when the standards are combined in one volume, particularly for PPE standards, where the requirements are applied to products rather than fire departments, and are of more interest to manufacturers and certification/testing organizations.
The other area of concern is the identity of standards. In its consolidation of standards, NFPA has proposed to assign new numbers. For example, where turnout gear and SCBA along with others are merged into a single standard, instead of the NFPA 1971 and 1981 designations that go with those product standards, the new number might be NFPA 1970. Similarly, when NFPA 1991, NFPA 1992, NFPA 1994 and NFPA 1999 are combined into one document, the new standard will be labeled NFPA 1990. This may just seem to be a numbers game, but it is of significant consequence. There are multiple purchase specifications, operating procedures and even regulations where the current standards are called out, distinctions that are important more to the end-users than to the manufacturers who can label their products however they are told. It seems NFPA did not take this matter into consideration in creating its reorganization plan, but then again, without asking the people involved, how would they know?
A more reasonable approach
The NFPA standards development process for fire service standards could benefit from a reorganization, but it should involve changes with the direct involvement of the targeted population to which the standards apply. We support a reorganization, but it has to result in direct benefits to the fire service in achieving greater accessibility, improved consistency and more efficient standards. We believe that all of these goals are possible, but it will take the NFPA to better recognize that fire service should have a hand in dictating how standards are consolidated.
The views of the author do not necessarily reflect those of the sponsor.