Training, development, performance: Take action
NIOSH Report cites crew integrity, lack of training in firefighter LODD
---
The day began like any other for a North Carolina firefighter. The 20-year-old volunteer would make one last run this day, as part of the first-due engine company responding to a typical strip-mall fire. The recently released NIOSH report describes the firefighter's last minutes in chilling detail; running low on air, becoming disoriented, getting disconnected from his crew and ultimately succumbing to the fire he was there to extinguish.
The NIOSH report enumerates contributing factors and broad recommendations. Unfortunately, many of the top contributing factors and recommendations play like music on an old-scratched record:
Lack of crew integrity 
Inadequate air-management training
Ineffective communication in an incident action plan
Failure to call a Mayday in a timely manner
No sprinkler system in the commercial structure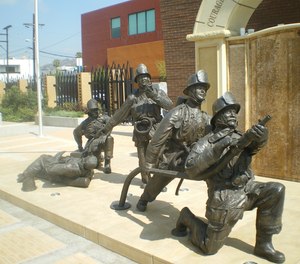 We've heard it over and over; crew integrity, inadequate training, ineffective communications, and sadly, no sprinklers; yet we continue to lose firefighters to our own hands and choices. It is incumbent on every person reading this article and that NIOSH report to do the right thing, now; review the report and take appropriate action.
Learn from LODDs, near misses and successes
We may have fewer fires overall, however, large and small departments alike are faced with challenging operational incidents daily. Whether there's two or 200 calls, any one of those may hold the keys to success or death.
Recent fires dramatically highlight the continuing hazards we face daily. Earlier this week, a massive apartment building in Dallas partially collapsed, trapping three firefighters in a second-floor apartment. In answer to their Mayday call, an already assembled rapid intervention team was deployed and successfully retrieved all three.
It's the tale of two fire departments, and I don't mean paid or volunteer. One day, one department, we're on top of our game and able to overcome all adversity, while the next, we collectively continue to pay lip service to the firefighters who are lost in the reports.
Take time now to review every near miss and LODD report you can review – and review the success stories that come across these pages daily. We need to succeed on and with purpose; not merely on hope and luck.