$5K reward for information on Va. firefighter's murder
Police say Fire Lt. Ashley Nicole Berry, who died shielding her child from gunshots, was not the intended target of the shooting
---
By FireRescue1 Staff
RICHMOND, Va. — A Virginia firefighter who was shot and killed on Thanksgiving Day died shielding her child and was not the intended target of the shooting, police say.
Richmond Fire Lt. Ashley Nicole Berry, 33, was killed while leaving a Thanksgiving celebration by someone firing at an adjacent residence, Hopewell Police Chief Kamran Afzal told the Richmond Times-Dispatch.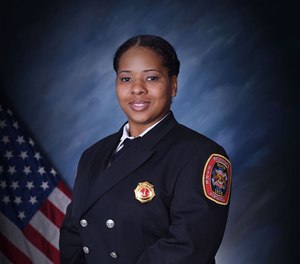 "We believe she was shielding her child," Afzal said. "That's what I'd expect from (a first responder). Firefighters and police officers give up their lives for other people and don't even think twice about it."
The Federal Bureau of Alcohol, Tobacco, Firearms and Explosives (ATF) is offering a $5,000 reward for information leading to the arrest of Berry's killer.
Police report that a gold or silver SUV was seen speeding from the scene of the shooting.
Berry's family gathered at the Richmond Fire Department Tuesday to ask the public for help solving the case and to thank the community for offering support.
"Ashley's motherly instinct allowed her to protect her young son from the hail of gunfire, which in turn caused her to lose her own life," George Berry III, a cousin of Berry's, said. "She was a beloved mother of three and will forever be her children's hero."