Who makes an ideal community paramedic?
CPs should have extensive prehospital experience and a strong network of peers in related disciplines
---
Community paramedicine (CP) is a subset of skills housed under EMS. As I described in a previous article, "Community paramedicine: What, why and how?," a CP program is designed to alleviate the burden to existing medical and social services, as well as emergency services, that is placed on them by misappropriated requests for resources. While all CP programs share this mandate, they differ in the execution of the services provided based on local need.
A critical part of any CP program is the team of community paramedics – individuals who are adept at negotiating the healthcare system, partnering with local agencies, and ensuring effective communication within all aspects of care in their jurisdiction.
The process of selecting community paramedics can be daunting for leaders or administrators, particularly considering the complexities of the environment within which CPs must operate. So before beginning the search for the ideal candidate, leaders must first establish a firm understanding of the organization's unique needs that a community paramedic will have to address.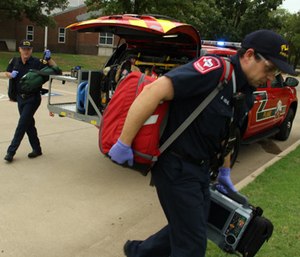 Unique needs can be identified through a thorough review of a department's jurisdiction and run data. For example, regional differences in tax revenue, reimbursement and staffing can affect whether resources can be dedicated to a full-time community paramedic or if the role will need to be utilized for other operational needs, like cross-trained as a fire inspector. By analyzing run data, patterns or clusters of patient types can be detected – a helpful tool should the agency look for an expert to address fall prevention, opioid abuse or another issue unique to that jurisdiction.
Key attributes of a community paramedic
Once the key CP elements are identified, it's time to consider the community paramedic role itself. But what attributes should an administration be looking for? There are some common traits to all successful CPs.
Independent: They must be able to operate with limited supervision; therefore, they must be equipped with a firm understanding of the parent organization's values, mission and polices.
Good with the public: CP is very much in the public domain. This means the community paramedic must interact in high visibility with various community partners, such as health department officials, law enforcement, hospital administrators and other healthcare practitioners. In addition, they are often able to directly interact with the public and in ways in which they will become well known, as they can spend days or weeks working with a single client. This, of course, is in opposition to traditional emergency response that uses well-trained teams to arrive at a crisis, mitigate it and disappear back to quarters. For better or for worse, a community paramedic may become the "face of the department" in some capacities. While organizational leaders may want to put a person into the role solely for that purpose, use caution during the selection process, as the public will expect them to be a resource, not a mascot.
High emotional intelligence (EQ): Another benefit that will likely benefit a community paramedic is high emotional intelligence, aka EQ. This is the ability to read and understand what another person is experiencing.
[Read next: Firefighter EQ: Can emotional intelligence be taught?]
Inquisitive: A good community paramedic is interested in the why of an individual's situation. They should want to handle upstream factors that lead patients to repeatedly activate the emergency medical system. Due to the enormous complexity of the U.S. healthcare system, patients can easily become lost in the ether of medical providers' workloads. The community paramedic should be looking for gaps in the system when searching their jurisdiction's EMS run data. This will allow them to dig deep into a client's medical and social history, their ability to cope, as well as what resources may be needed to assist them.
Networker: The network is the true strength of the community paramedic. No one person can possibly know how to access all aspects of care. By using peers as a source of information, a community paramedic can more effectively navigate the healthcare system as well as the myriad government and non-government organizations that are involved in social services, mental health, charity work and other resources.
Should a community paramedic be found or trained?
Considering the specific traits typically needed to be a successful community paramedic, it's only natural to ask whether candidates already exist in the organization's emergency medical systems (or somewhere outside of it) or if this is such a special skill that it must be trained into existing personnel.
The process to develop a successful community paramedic is a long one. Ideally, your candidate will have years, if not decades, of prehospital experience, arming them with a solid knowledge base of healthcare operations and a list of personal contacts to build a network of peers in related disciplines. As previously noted, the community paramedic's networking building-skills will be essential to successfully navigating the system. If a CP program is already established, one could be in a better position to "inherit" an existing network, but there is no real substitute for experience.
Organizations that are standing up a CP program can develop training based on regional resources and a didactic overview of the American Healthcare system. Courses – both collegiate and industry-designed – can provide a roadmap to the components of healthcare and how they interact. Further, conferences on these topics can help build a foundation of knowledge for your CP team.
Bottom line: The decision of whether to hire externally or build internally is one that will need to be determined by individual organizations based on available human capital.
Find your community medic
The ideal candidate for the community paramedic role is directly affected by the regional needs of the parent EMS organization. Take time to review available EMS run data to determine what deficiencies are apparent, develop a plan to address them, then select a candidate based on that plan. A good community paramedic will have a high emotional intelligence and an inner drive to solve complex problems. Regardless of how a CP program is ultimately structured, those two key attributes will serve the organization well.