'Not enough tin foil': Utah senator dismisses conspiracy theory over firefighter legislation
"Urban searches" reference has some Utahns are concerned the workers' compensation bill could allow martial law to be imposed on the unvaccinated
---
By FireRescue1 staff
SALT LAKE CITY — Utah's HB16, Emergency Response Amendments, has ignited a firestorm of chatter that state lawmakers are dismissing as a conspiracy theory.
The bill allows Utah firefighters to collect workers' compensation if they are injured while fighting wildfires out of state, reported The Salt Lake City Tribune. However, some Utahns are worried the bill authorizes troops to be called out to lock up residents or impose martial law, so much so that they are flooding lawmakers with messages urging them to vote against the bill.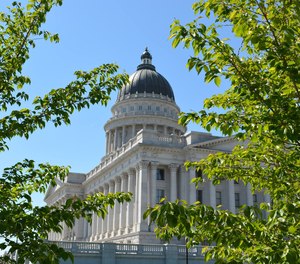 The issue is rooted in a section of the bill that references the authorization of emergency response teams to conduct "urban searches" – as in, urban search and rescue – in coordination with the Department of Homeland Security.
As The Tribune reported:
Somehow, that section leads people to believe that local health departments, school boards, or any number of entities will have access to militarized emergency response teams that will then be used to round up unvaccinated Utahns and put them in camps to be forcibly vaccinated against COVID-19. There have also been suggestions that residents could be arrested for speaking out against critical race theory, vaccination passports or questioning the integrity of elections."
Sen. Mike McKell, R-Spanish Fork, shared with The Tribune one of the emails he received about the issue: "Urban search and rescue being organized by DHS SOUNDS LIKE A MILITARY OPERATION. Against us? Against who? Are you planning to wage war against us?"
McKell called the response to the bill "bizarre," adding, "There's not enough tin foil on Capitol Hill to wrap up this conspiracy."
In response to the uproar over the bill, lawmakers addressed the concerns during a Senate Business and Labor Committee meeting on Monday. In response to a question about whether the bill is a "ruse to allow the government to create an imaginary emergency so that law enforcement can engage in unlawful searches and seizures, force vaccinations on people, put them in internment camps, separate families and confiscate property," Rep. Jim Dunnigan, R-Taylorsville, the bill's sponsor, assured it was not.
The bill now heads to the full Senate for consideration.