Volunteer firefighter shortage worries Pa., Del. officials
Recruitment efforts ramp up as numbers in the tri-state area have diminished in recent decades
---
By Jessie Forand
LOWER MERION TWP., Pa. — A staffing shortage among volunteer firefighters in Pennsylvania and Deleware is a crisis according to state lawmakers. 
6 ABC reported that in the 1970s, about 300,000 volunteers signed up to battle blazes, according to the Pennsylvania Fire and Emergency Services Institute.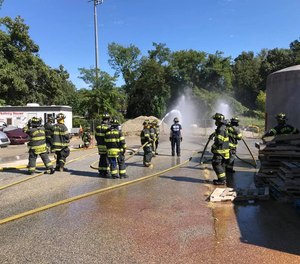 The state has 2,448 fire departments. The vast majority — 2,354 — are fully volunteer, the most of any state in the country. 
In 2018, a mere 38,000 volunteers remained. 
Nearby Delaware has seen an about 50% decrease in the last 10 years, Delaware Volunteer Firefighters Association Executive Manager Warren Jones said. 
The shortage is likely caused by increasing operating costs, fundraising demand and a lack of time for volunteers to commit. 
"There's a lot of two-income households now and it's difficult when one is working to leave the kids," John Waters, Lower Merion's Deputy Fire Marshal, said. 
In order to gain more volunteers, Lower Merion fire officials have launched a stipend program and overnight live-in options at fire companies so volunteers don't need to purchase a home in the area. 
"It's a truly, truly rewarding experience if you can get in, knowing you're out there helping your neighbors in the worst times," Lower Merion Fire Chief Chas McGarvey said.