Company donates pet oxygen masks to Ill. FD after puppy rescue
The firefighters were directed to the "Project Breathe" program after saving a puppy who suffered smoke inhalation
---
Christopher Morrical
Commercial-News, Danville, Ill.
DANVILLE, Ill. — Thanks to the rescue of one lucky little puppy on Dec. 1, the Danville Fire Department is getting more tools to help save pets caught in house fires.
Invisible Fence — creators of the buried cable-to-collar frequency containment devices — is donating three sets of pet oxygen masks to the department through its Project Breathe program.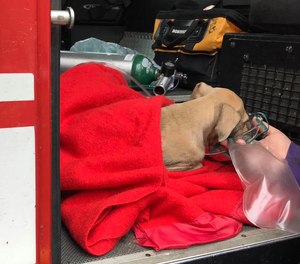 "The day that we posted the pictures of the dog that was rescued on the fire department's Facebook page," said Acting Fire Chief Don McMasters, "a gentleman replied back to us and said we need to look into this donation program."
The fire department had been dispatched at 11 a.m. to a porch fire at 34 S. Griffin St., where a fire had quickly spread into the kitchen of the home. All of the house's residents had gotten out safely, but a puppy remained inside.
Firefighters tamped down the flames and went in.
"When we found the puppy and brought him out, he was literally limp," McMasters said. "He was darn-near lifeless. He was breathing, but he was breathing real short, gaspy breaths. He was a limp noodle."
Firefighters laid him in front of the heater of a firetruck and applied a standard oxygen mask. They also put a blanket on him and cuddled him to warm him up.
He lay there for awhile, and eventually a family member came and sat with him until he started wanting to get up. The family then took him into the house next door where he continued to recuperate.
When Project Breathe was brought up, one of the firefighters did some digging.
Invisible Fence will donate an oxygen mask kit to fire departments and other first responders — each kit includes a small, medium and large oxygen mask especially suited to fit the face of an animal.
"Although the U.S. Fire Administration doesn't keep an official statistic," Project Breathe's website reads, "industry sources estimate 40,000 to 150,000 pets die each year in fires. Most succumb to smoke inhalation. In most states, emergency responders lack the equipment to resuscitate and save pets."
The project claims to have saved 201 pets so far from fire and smoke inhalation, and has donated 25,170 masks so far.
The fire department applied for the program and asked to receive three kits — one for each station.
McMasters finally got confirmation Wednesday night the department will be receiving the kits — possibly in a week or so.
The masks will benefit any future pets — like the pup dubbed "Smokey" — with easier access to oxygen.
Regardless, it was a happy ending for this little guy.
"Before we left the scene, they let the puppy come out the door," McMasters said. "He played around on the front porch for awhile and he went down in the yard, and he was back to typical puppy status by the time we left there."
———
©2019 the Commercial-News (Danville, Ill.)
McClatchy-Tribune News Service