Firefighters to dispatcher: Python 'won't let go' of woman's hand
The python, named RuPaul, latched onto its owner's hand as she was about to give it a warm bath
---
By Sandra Tan
The Buffalo News
BUFFALO, N.Y. — It's unusual for Buffalo police and firefighters get called to a scene for a snake bite. It's weirder still when the 2-foot-long snake is still attached to the victim, shows no sign of letting go, and is named for a drag queen.
The mini-drama unfolded around 7:15 p.m. Saturday when dispatchers sent police and firefighters to a South Buffalo address on a snake bite call. When they got there, they found a ball python with its teeth and body still wrapped around the left hand of a 26-year-old woman. They informed dispatch.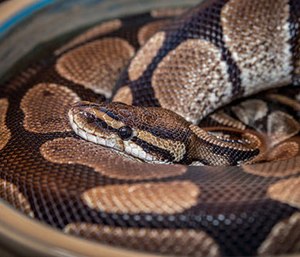 "Okaaay...." responded the dispatcher, clearly stumped as to how to advise the firefighting medical team on scene.
"It doesn't want to seem to let go," a firefighter told the dispatcher.
It turns out ball pythons, while not poisonous, have 80 or so short-but-sharp, inwardly facing teeth. If they don't want to let a person go, there's almost no way to forcibly pry them loose.
Fire dispatchers attempted to reach the Buffalo Zoo for advice. When that failed, they tried the Erie County SPCA.
Then the dispatcher advised spraying the python's snout with rubbing alcohol, or pouring cold water over it.
"We're trying that," the answer came. "We're trying food. We're trying everything here."
Within a few minutes, however, the python let go.
Mike Nostro, the apartment resident, told The Buffalo News afterward that his ex-girlfriend had come to his place to give the python a warm bath in the tub. The python, named RuPaul because the owner can't tell if it's male or female, is 4 or 5 years old and normally docile, Nostro said. It had never bitten anyone before.
Nostro declined to name his ex, who actually owns the snake. The two had broken up and the ex had moved in with her mother, but her mother drew the line at the snake coming to live with her, too. So it was staying at Nostro's place.
His ex-girlfriend eventually got free by moving RuPaul close to the bathtub faucet, which was running cold water, Nostro said. Unhappy enough with the warm water bath, the python retreated at the prospect of a cold water one and was isolated in a Rubbermaid bin to calm down. Nostro said his ex's injuries were minor, but her embarrassment was great.
An officer with the SPCA came by after the incident and suggested the woman use antibacterial soap and ointment and watch for swelling.
Copyright 2017 The Buffalo News