Teen who drove around flood barriers ticketed following rescue by FFs
The Emporia Fire Department and Lyon County EMS were called for a water rescue
---
Jason Tidd
The Wichita Eagle
LYON COUNTY, Kan. — A Kansas teenager was written a ticket after she was rescued from the top of her flooded car early Thursday morning.
The Lyon County Sheriff's Office said 19-year-old Apryl Salender of Emporia was issued a citation for driving around a barricade after Emporia firefighters rescued her.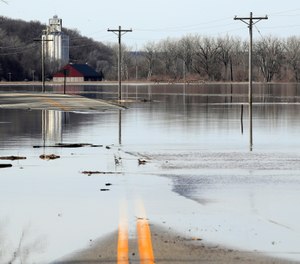 Salender called 911 at around 3:11 a.m. Thursday and told dispatchers that her blue 2003 Mazda6 had been swept off the road by floodwater, the sheriff's office said in a news release. The woman later told investigators that she drove around a barricade and "wasn't able to get the vehicle stopped in time to avoid being partially in the water."
After the car came to a stop, the current of the water swept it off the road and into a field near the intersection of Road J and Road 140, about four miles south of Emporia, the news release said. Salender then grabbed her phone and climbed onto the roof of her car.
Salender's phone died before deputies arrived at the scene, but they were able to communicate by yelling, the sheriff's office said. After deputies arrived at around 3:30 a.m., the Emporia Fire Department and Lyon County EMS were called for a water rescue.
The water rescue took about 9 minutes, and Salender was back on dry land at around 4:11 a.m., or about an hour after she called 911. She was taken to Newman Regional Health, a hospital in Emporia.
"The Lyon County Sheriff's Office would like to remind everyone not to drive around the barricades, keep a charged cellular device readily available, and in the event of an emergency: stay with the vehicle, if possible," the news release said.
———
©2019 The Wichita Eagle (Wichita, Kan.)
Distributed by Tribune Content Agency, LLC.
McClatchy-Tribune News Service