Firefighters, rescuers killed in avalanche in Turkey
Officials say 38 people, including 33 making rescue efforts after an earlier first avalanche, were killed
---
By Laura French
TURKEY — Two avalanches on a slope in Turkey have killed 38 people, with firefighters among the dozens of soldiers and volunteers making rescue efforts after the first avalanche.
About 200 to 300 people were conducting search and rescue efforts Wednesday morning, after a Tuesday avalanche hit a passenger van containing 14 people, killing at least 5, according to the New York Times. During the search, a second avalanche occurred, burying many of the rescuers. The current death killing 33.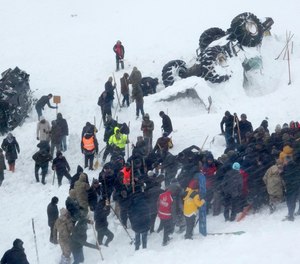 "I heard a noise, and then half my body was under the snow," said Van province Head of Emergency Management Osman Ucar, who survived the second incident. "Another earth digger was working up there and it dragged us."
Turkish Interior Minister Suleyman Soylu said some survivors were pulled out from under 16 feet of snow. About 30 surviving rescue workers had to be rescued, with a total of 53 injured survivors between the two avalanches.
Officials estimated that between 10 to 15 people are unaccounted for following the double avalanche event.